Setting up Push 2 (Mac)
Live Versions: 9.5 and later
Operating System: All
Setting up Push 2
Connect Push 2 to your computer's USB port, and if possible avoid any USB cord extension or external USB hub. We recommend also connecting the AC adapter to ensure the maximum brighness for its display and LEDs.
Launch Live 9.5
Push 2 requires Live 9.5 or later to work. Make sure to download and install the latest available version from your User Account.
Push 2 will automatically configure as soon as Live 9.5 is running, provided its MIDI ports are correctly detected by OS X.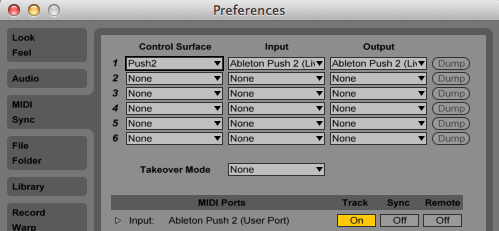 This is how your MIDI preferences should look like once Push 2 is plugged into your computer.
While Push 2 automatically configures as a Control Surface, you will need to manually configure the Push User port to create custom mappings with Push while in User mode.
Firmware update
Before Push 2 is ready to use, a Firmware update might be necessary. If this is the case, Live will perform the update automatically, and the Push display will notify you once the process has completed, instructing you to restart the device.
The Firmware update will only take place if Push is correctly configured as above. 
Troubleshooting
If Push still displays the Ableton logo after launch, it is likely that something is preventing OS X from detecting the MIDI ports.
The first step would be to open System Information, to see if Push 2 is detected:
Launch Applications/Utilities/System Information
Click on the USB item in the sidebar
Verify Push 2 is logged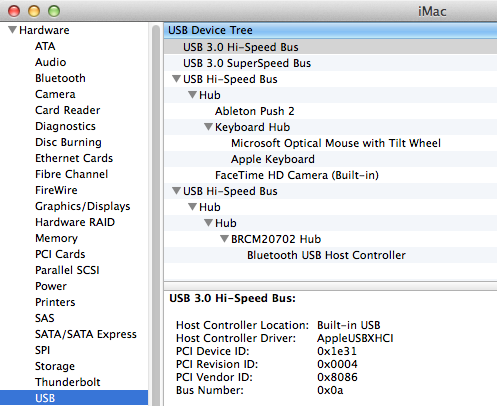 The OSX utility System Information should reveal Push 2 under the USB devices in use.
If Push 2 does not show up in the USB section, try using a different cable and USB port. You might also try to plug Push to a different computer, which should reveal if the problem is specific to the computer or to the Push USB port.
If you successfully verify that Push appears under the USB section, the next step is to verify that the device is correctly initialized under OS X Audio/MIDI setup.
Open Application/Utilities/Audio MIDI setup
To display the MIDI environment, click Window-->Show MIDI Window
Verify that Push 2 appears in the list and that it is not greyed out.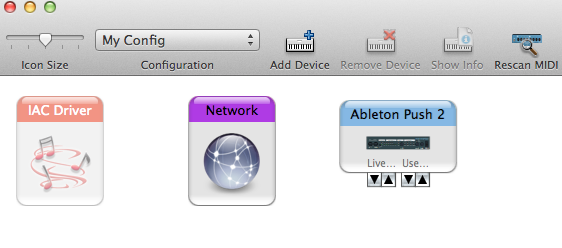 OS X Audio MIDI setup
Should Push 2 appear greyed-out, or not appear at all, even if System Information logs the device under the USB panel (see previous paragraph), refreshing the MIDI configuration should help OS X to initialize its ports.
Click on the "Configuration" drop down menu
Click "New Configuration"
Select a name for the new configuration and click OK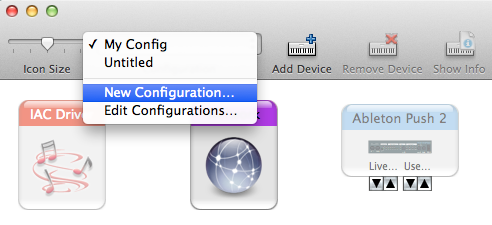 Creating a new MIDI configuration on OSX
Once Push 2 shows up here, Live will also "see" its MIDI ports, and auto configure it as soon as the program launches.
If the MIDI Studio window hangs and does not load any devices, you may need to delete outdated MIDI Drivers from your system.  Outdated MIDI drivers can also cause Push 2 to malfunction.
Keep in mind that it might take a few seconds for the Push 2 Control Surface to become operational. In Live, a visual confirmaiton that the Control Surface is running is provided by the Session Ring showing up in Live's Session View.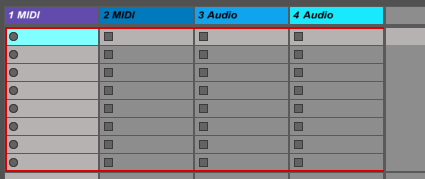 Live displays the Session Ring once the Push Control Surface is active.
Nothing on display
In case that the Push buttons and pads light up but nothing appears on Display, it might be that the OS X version in use is outdated. Especially for OS X 10.7, it is mandatory to install all the available software updates.
The Push 2 display will not work with OS X versions prior to 10.7.5.