"Media Files Are Missing"
Live Versions: 6-10
Operating System: All
In certain cases, Live may be unable to locate media files in the original file path saved with the Live Set. This can happen for a variety of reasons:
The Project may have been moved to a new computer without collecting the samples first.
The media files may have been deleted.
The media files may be located on an external hard-drive which is currently not connected, or has changed name/letter assignment.
If you have enabled Optimized Storage when using iCloud Drive (MacOS Sierra and higher) this could delete older files from the Desktop and Documents folders when storage is low, which may include Live documents and media files if you have saved them there.
If you're storing your files in a cloud-synced folder, make sure that the files are available locally (on your computer) at all times. Some services may offer the option to only store references to those files on your computer, while the actual file itself resides in the cloud. In those instances Live will not be able to locate the file, as it does not physically reside on your computer.
If you've upgraded from Live Intro or Lite, to Standard or Suite, the core library content is different which could result in this error if you've used some of the Lite/Intro exclusive content. Here's how to restore the missing content.
How to avoid this error when transferring a Project
When moving a Project from one computer to another, please use the "Collect All and Save" function from the File menu to copy media files into the current Project Folder. 
Transfer the entire Live Project Folder to the other computer. The Live Set will now reference the copied files stored in the Project folder.
Please see "Recommendations for transferring Live Projects" for a detailed breakdown.
Using Automatic Search to find missing files
If your samples or other media files have been moved then you can force Live to search your computer. Open File Manager by clicking the orange status Bar. Alternatively you can open File Manager at any time from the View menu.

Press "Go" to start searching automatically for missing files.
Tip: If you know the folder location of the missing samples, you can click "Set Folder" to choose that folder and make sure Search Folder option is set to "Yes". This will speed up the time it takes to locate the missing samples.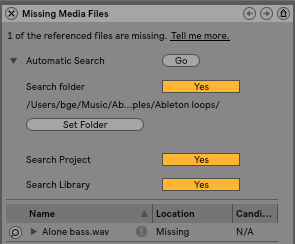 If you don't know the original location of the sample, you can right-click on header bar and select "Path" from the context menu. You will then be shown the original path of the file:

Manual Replacement of missing files
To manually fix a broken file reference, locate the missing file in Live's Browser or in Finder/Explorer, drag it over to the File Manager and drop it on the respective line in the list of missing files. Live will not care if the file you offer is really the file that was missing.
If there are more than one missing files, a dialog pops up and asks if you want to search in the same location for the other missing files. Click "Yes" if they are located in the same folder or nearby folders. Otherwise proceed manually to find the rest of them.
Tip: Use the search function on Finder (Mac)/Explorer (Windows) to search for the file name on your computer and connected hard-drives. 
How to restore files deleted due to the Optimized Storage feature with iCloud Drive
MacOS Sierra and higher has a feature called Optimized Storage. You can add your Desktop and Documents to iCloud Drive, which syncs the contents of those folders to iCloud Drive but if Optimized Storage is enabled, it will automatically delete older files if your computer's storage runs low (keeping a copy in iCloud Drive). If you have saved media files or Live documents to either of these folders and if they get deleted automatically then Live will not be able to locate the missing media files.
There are a few ways around this:
Re-download the deleted files from iCloud Drive, then turn off Optimized Storage
Re-download the deleted files from iCloud Drive, then move them to your Music folder (or any location other than Desktop or Documents)
Re-download the deleted files from iCloud Drive, then turn off Desktop and Documents from iCloud drive
Further reading
Please see the section of the Manual on Managing Files and Sets.