Authorizing Live Offline
Live Versions: 5-11
Operating System: All
If you cannot successfully authorize online, or if your computer is not connected to the internet, or if you are trying to authorize an older version of Live (4-9), you can follow these steps to authorize Live offline:
1. Install Live on the computer that you wish to use it on.
2. When Live starts, you will see an authorization dialog. Click on No Internet on this computer.
3. Live will display another window in which the hardware code of your computer is shown, as well as further information regarding the Offline Authorization process: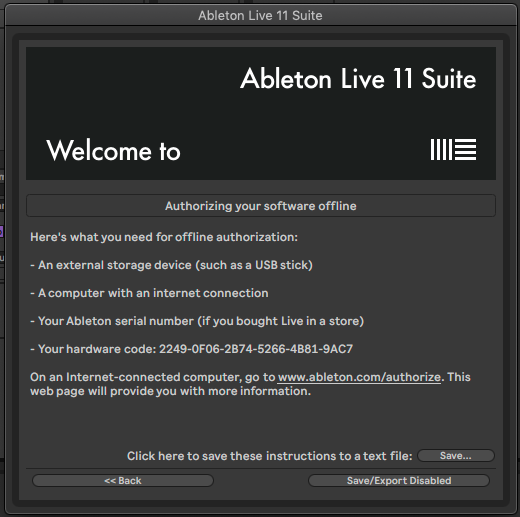 4. Note down the hardware code (you'll need to enter this number in your Ableton.com account). You can also save this information as a text file to make it easier to find later.
5. On an internet-connected computer, log in to your Ableton user account. Note: You don't necessarily need to use a second computer to authorize offline. Offline authorization can be performed on the same computer, as long as it has an internet connection.
6. Once you're logged in, select your Live license from the list (if you have multiple licenses) and click authorize offline.
7. Enter your hardware code from Live and click "Download". The Ableton server will generate an authorization (.auz) file for the computer you want to authorize: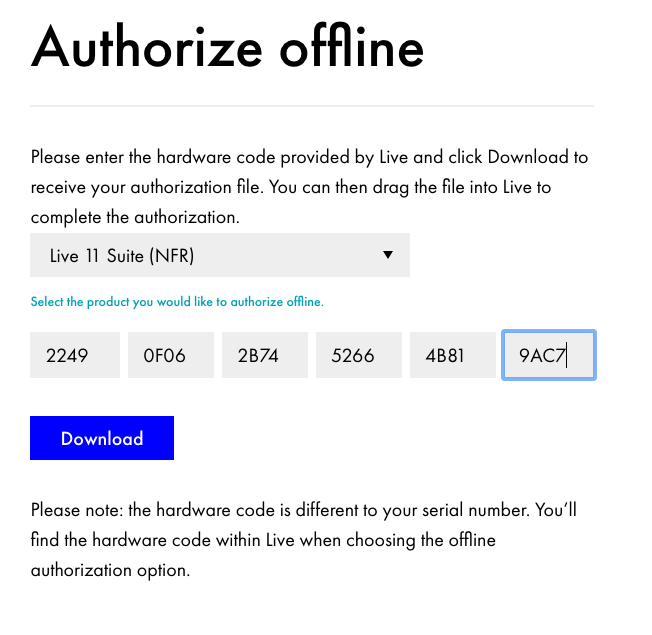 7a. If using an offline machine, you can save the authorization file to your portable storage device and bring it back to the computer where Live is installed.
8. Open Live and double click the .auz file or drag it onto the authorization dialog.
If you need to find your hardware code again, the offline authorization dialog can also be found within the Live Preferences' "License / Maintenance" tab: