Issues importing compressed audio files (MP3, M4A, FLAC etc)
Live Versions: 5 - 10
Operating System: All
In case you're having issues importing MP3, M4A, FLAC or other compressed audio files into Live, click on the links below for information on these error messages:
Error: "File could not be read. It may be corrupted or not licensed."
This is the most common error message when it comes to importing audio and it can sometimes be misleading. Below are a list of scenarios where you might come across this.

Missing Codec on Windows
The most common cause for the above error is a missing codec on your computer.
If you are experiencing this issue with Live 64-bit on Windows, you should download one of the video codecs recommended in this article (they also include audio codecs).
Live 32-bit on Windows 7 uses Quicktime to decode compressed audio files (e.g. mp3s). Make sure that Quicktime is up to date. On Windows please download and install the latest version of Quicktime.

Certain Windows editions (Windows N and KN) do not include Windows Media player and the related codecs.  In order to import compressed audio files in Live under these operating systems it is first necessary to install the media feature pack: Media Feature Pack (Windows 8) or Media Feature Pack (Windows 10).
File is Corrupt
Another possible reason for this error is that the file you are loading into Live is corrupted. You can check this by seeing if it will play in your media player.
File is DRM-Protected
Certain audio files, especially .m4a files purchased from iTunes may be DRM-protected. This is a form of copyright protection and as such, you won't be able to import these files into Live.
File Format is Not Supported
Although Live supports a large number of audio formats, there are certain formats that either aren't supported or are only supported in certain sample rates and bit resolutions.
For example, Apple Lossless (ALAC) .m4a files are supported, but only when in  44.1kHz, 16-bit format.
For further information you can reference this article which lists all the supported audio file formats in Live.
Mouse pointer changes to a "forbidden" symbol
If you don't see the error message described above but instead, when dragging in a audio file, the mouse pointer changes to a "forbidden" symbol, the cause of the issue is somewhat different.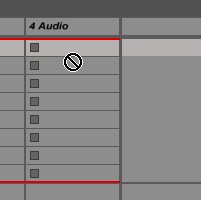 Running Live as Administrator (Windows)
In certain cases, for example when a particular VST isn't read by Live or when using jBridge, it is necessary to always run Live with administrative privileges.
You can set this up via the shortcut properties. To open the properties window, right click on the program shortcut or program .exe file, then click on Properties, and on the Compatibility tab.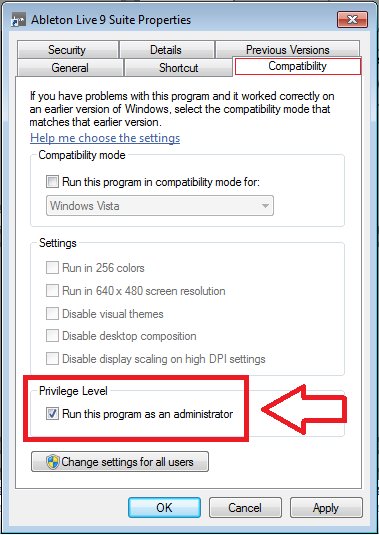 Set the short-cut to always run with administrative privileges
Should you set this up, you will no longer be able to import files by dragging and dropping them from the Explorer.
To fix this issue, set your Windows "User Account Control" settings to "Never Notify".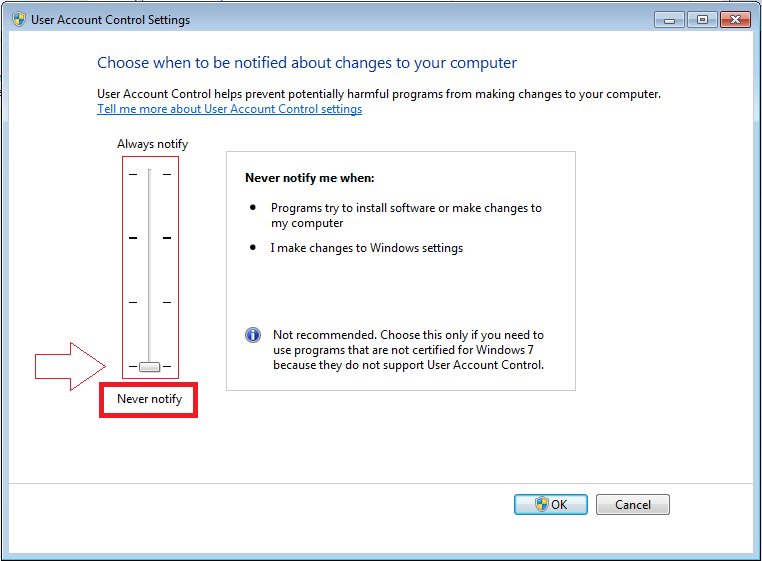 You will then also be able to import files by dragging and dropping from the Explorer.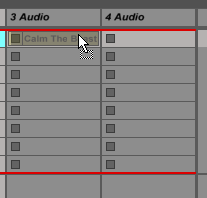 Error: "MP3 could not be decoded using QuickTime (Error code -43)"
If it's not possible to decode an MP3 file using QuickTime if the MP3 is stored on a network disk this could be happening for one of the following reasons:
Win and Mac:

illegal characters in the file name/path

Mac only:

wrong permissions
and/or a non-existent share point
The solutions are as follows:
Win and Mac:

make sure QuickTime is up to date
check if one of the following characters is present in the file path and remove them: ? [ ] / \ = + < > ; : " , | *
verify that the network storage is connected correctly and online

Mac only:
Error: "The file Untitled.mp3 is too large to be decoded."
Make sure that the computer hard drive has enough free space available and adjust the "Minimum Free Space" settings in the Decoding Cache settings. Please note that the minimum free space must not exceed the available free space on the hard drive.

This can be adjusted in Live's preferences on the File/Folder Tab.

MP3 files not warped correctly after transfer from another computer (Win)
When transferring Live Sets that contain mp3 files between computers, the Warp Markers might be missing or changed, even though the matching .asd files are copied along with the mp3s correctly. This is because a different MP3 decoding algorithm was used on the original computer, resulting in a slightly different length of the decoded audio files. Therefore the info stored in the .asd files cannot be matched with the newly decoded files, and Warp Markers cannot be correctly applied to the clip.
Solution
A) If Quicktime is not installed on the recent computer, but on the original one:
Install Quicktime
Open Live
In Live´s File / Folder preferences, click "Cleanup" to empty the decoding cache
Reimport the MP3s
B) If Quicktime is installed on the recent computer, but was not installed on the original one:
Uninstall Quicktime
Open Live
In Live´s File / Folder preferences, click "Cleanup" to empty the decoding cache
Reimport the MP3s
Note: Some functions in Live, such as movie import, require Quicktime. Use solution B) with caution, consider to re-warp the files and leave Quicktime installed.
We generally recommend to install Quicktime. If Quicktime is not installed, Direct Show will be used to decode MP3s. Direct Show will add a short bit of silence to the beginning of the decoded audio file, resulting in a different length, Warp Markers cannot be applied.
Additional Information
Supported audio file formats in Live