Automatic Updates
Live Versions: 8.3 - 10
Operating System: All
What are Automatic Updates?
Instead of having to manually install the latest Live updates, Live can keep itself up-to-date automatically.
How to enable Automatic Updates
Make sure "Get Automatic Updates" is turned on in Live's Preferences → Licenses/Maintenance tab: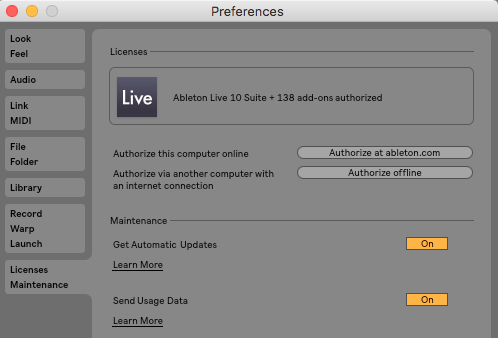 How do Automatic updates work?
Updates are very small files. If there's an active internet connection, any available update will be downloaded when Live is started. Depending on the speed of your connection, an update should only take a couple of minutes or less to download. The current version will remain running until Live is closed, then the updated version will be launched the next time you start Live.
What to do if Live is not updating automatically?
Check our dedicated article: Automatic updates not functioning properly.