Automatic Updates
Live Versions: 8.3 - 10
Operating System: All
What are Automatic Updates?
Instead of manually installing the latest Live updates, Live can keep itself up-to-date automatically.
Updates are very small files. If there's an active internet connection, available updates will be downloaded when Live is started. Depending on the speed of your connection, an update should only take a couple of minutes or less to download. The current version will remain running until Live is closed, then the updated version will be launched automatically the next time you start Live.
Enabling Automatic Updates
Make sure "Get Automatic Updates" is turned on in Live's Preferences on the Licenses/Maintenance tab: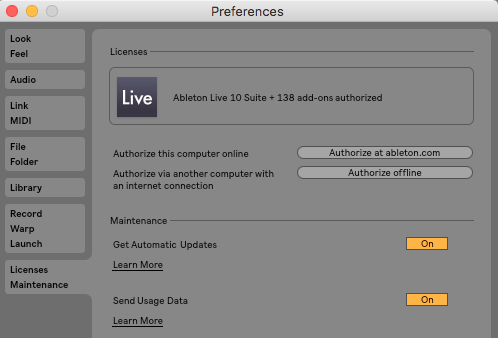 Note: If you have had Automatic updates disabled, or if you've had no internet connection on your computer for some time before re-connecting, then Live may need to automatically update incrementally to the very latest version. For example, if your current Live version is 10.0.1, and the very latest version is 10.0.3, Live will first need to auto-update to 10.0.2 before auto-updating to 10.0.3.
What to do if Live is not updating automatically
If Live isn't automatically updating, please check what you can do to make it work.
Alternatively, you can manually install the latest version by downloading it from your Ableton user account.
Look up which version of Live is installed on your computer
Open Live
Choose 
Help → About Live (Windows)
Live → About Live (Mac)
On the appearing splash screen, Live displays