Managing Packs
Live Versions: All
Operating System: All
How to update a Pack in Live's Browser
Under Places, click on Packs.
Scroll down to the list of Updates and unfold the list.
Any available updates will be shown here.
Press the download icon beside the Pack, and when fully downloaded press Install.

How to purchase a Pack
Browse the Packs section on the Ableton Website.
Packs can be filtered by type.
Click on a Pack, then click on the button marked "Buy Now" to complete the purchase process.
Purchased packs are added to your User Account and to the Available Packs section in Live's Browser.
How to delete a Pack
Right click on the Pack in the Live Browser and select "Delete" or press the delete key on your keyboard.
How to view the Default Lesson for a Pack
Right click on the Pack in Live's Browser and select Show Default Lesson.
How to change the installation folder for a Pack
The installation folder for Packs can be changed in Live's Preferences > Library.
Click Browse to search for the new installation folder: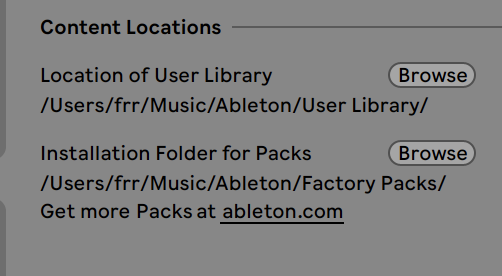 After choosing the new folder and clicking Open, a dialog will pop up asking you if you wish to move existing Packs to the new location as well. If you click No then only subsequent Packs will be installed to the new folder, and all your existing Packs will remain at the old location. Yes moves everything to the new location (recommended):