Setting up Push 2 (Win)
Live Versions: 9.5 and later
Operating System: All
Setting up Push 2
Connect Push 2 to your computer's USB port, and if possible avoid any USB cord extension or external USB hub.  We recommend also connecting the AC adapter to ensure the maximum brightness for its display and LEDs.
Launch Live 9.5 or later
Push 2 requires Live 9.5 or later to work. Make sure to download and install the latest available version from your User Account.
While the Push MIDI ports will be automatically detected by your OS, the Push 2 display driver is installed the first time you connect Push 2 to your computer, if Live is running.
At this point, Windows should inform you that the device driver is being installed. This might take a few minutes, and in some cases your OS will display a progress bar.
On certain Windows verisons, a progress bar is displayed as the Push driver is being installed.
Once complete, if Push does not start yet and keeps only displaying the Ableton logo, restart the device once by powering off and on again.
This process will cause Windows to rescan all USB devics, so any existing driver error messages may be displayed once more. This has no impact on the Push 2 driver.
Next, Push 2 will automatically configure as soon as Live 9.5 is running.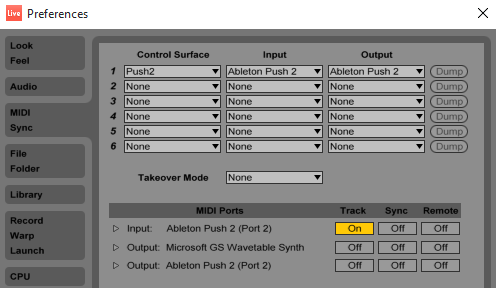 This is how your MIDI preferences should look like once Push 2 is plugged into your computer.
While Push 2 automatically configures as a Control Surface, you will need to manually configure the Push User port to create custom mappings with Push while in User mode.
Keep in mind that it might take a few seconds for the Push 2 Control Surface to become operative. In Live, a visual confirmation that the Control Surface is running is provided by the Session Ring showing up in Live's Session View.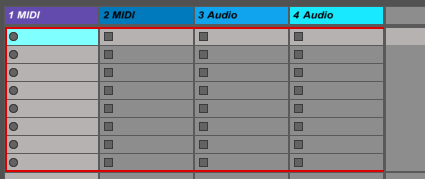 Live displays the Session Ring once the Push Control Surface is active.
Firmware Update
Before Push 2 is ready to use, a Firmware update will most likely be necessary. If this is the case, Live will perform the update automatically, and the Push display will notify you once the process has completed, instructing you to restart the device.
The Firmware update will only take place if Push is correctly configured as above.
Troubleshooting
If Push 2 keeps displaying the Ableton Logo after Live 9.5 has been launched, it is likely that something is preventing Windows from detecting the device's ports correctly.
In order to confirm that your computer is recognizing Push 2, open the Device Manager.
Press "Start", open Control Panel-->Device Manager
Make sure that Ableton Push 2 appears under both "Sound, Video and Game Controllers" and Push 2 Display appears under "Universal Serial Bus devices"
Note that these items will appear only if Live 9.5 has been started once with Push 2 connected.
The Device Manager should list Push 2 under the USB devices in use.
Further Troubleshooting
If the Push display does not work correctly, for example will not update to reflect the Liveset, there may be some power constrictions preventing it from working correctly.
Please navigate to the Device Manager, drop down the Universal Serial Bus Controllers section, and find the port to which Push 2 is connected. Some investigation is required to find the correct entry, but it will likely be under a 'USB Root Hub' if connected directly to the computer. To be certain, Push 2 will labelled as a 'USB Composite Device' with 500mA power requirement. 
Which USB device is Push
Please then navigate to the Power Management' tab and make sure that the following setting is unchecked: "Allow the computer to turn off this device to save power". 
Disable Power Saving
If Push 2 does not initialize, please reinstall the driver by doing the following:
disconnect Push 2 and navigate to the Device Manager
from the View menu, select "Show hidden devices".
under 'Universal Serial Bus devices" you will see any older iterations of the Push 2 Display drivers.
Uninstall Hidden Devices
Right-click each instance of "Push 2 Display Driver" and select "uninstall". 
Please then connect Push 2 to another USB port.
Allow the Drivers to install once again, by launching Live.
Switch Push off and on again, using the power switch at the back. 
Display driver not installing
Under certain circumstances, the Push 2 Display driver cannot be installed automatically by Live. In this case, it is still possible to do that manually.
To do so, run the installer by double clicking the 'Push2-display-driver-installer' executable from the Ableton Live Program Folder, which is located under:
C:\ProgramData\Ableton\Live 9 Suite\Redist
Please note that the ProgramData folder is hidden by default on Windows, thus it is necessary to enable the OS to display hidden files and folder.
On some systems, it might be necessary to run this process as Administrator. This option is available via context menu by right clicking on the driver installer.
Please also see this article in case Push 2 doesn't load beyond the Push 2 logo: