VST/ AU plug-in doesn't appear in Live's Browser
Live Versions: All
Operating System: All
First read our dedicated articles:
In case a VST or Audio Unit (AU) plug-in is not showing up in Live, please take the following steps:
Make sure you've activated the correct plug-in Sources
Open Live's Preferences to the File/Folder tab and check under "Plug-In Sources":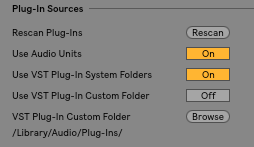 If using Audio Units (AU), switch "Use Audio Units" on. (Mac only).
If using the VST Plug-in system folder, switch this on. (Mac only).
If using a Custom Plug-in folder, browse and select that folder, then switch it on.
Rescan plug-ins
Press "Rescan Plug-Ins" if you installed a plug-in while Live was running. To perform a full rescan of all installed plug-ins hold ALT/Option and press "Rescan Plug-Ins". Or you can turn off the VST/AU folders in Live's preferences and then turn them back on.
Make sure you've installed the correct bit-depth (32-bit or 64-bit)
32-bit plug-ins will not show up in the 64-bit version of Live, and vice versa. (Live 10 is 64 bit only)
32-bit plug-ins won't appear in Live 10, unless you bridge them using a third party program like jBridge or 32Lives.
Some modern plug-ins are only available in 64-bit (such as Kontakt as of version 5.1). If you are using the 32-bit version of Live, they won't show up.
It's not recommended to store the 32-bit and 64-bit versions of plug-ins in the same folder.
Make sure you've installed VST2 or AU2
VST3 and AU3 are not supported in Live. 
Update the plug-in
Check the manufacturer's website and make sure you have installed the latest version of the plug-in and that it's compatible with your Operating System. On Windows, also make sure to have installed Visual C++ 2010 SP1 which is required to run 64-bit applications that have been developed with Visual C++ 2010 SP1.
Make sure the plug-in is installed to the correct location
Check the default installation locations here:
Using Waves plugins with a custom VST folder
A special file called a WaveShell is installed to the default plug-in folder. However if you're using a custom VST folder then you need to locate the WaveShell file and move it to your custom VST folder. See our article: Using Waves plug-ins with a custom VST folder.
Don't move the standalone or VST versions after installing (Windows only)
VST plug-ins might stop working when the stand-alone application of the plug-in gets moved, renamed or uninstalled.
It's recommended to always install VSTs directly to the correct destination folder, rather than manually moving the DLL file afterwards.
Use Admin rights (Windows only)
Certain plug-ins require Live to run with admin rights. For example plug-ins which offer the possibility to drag MIDI clips from the plug-in into Live, like Toontrack's EZDrummer.