Push 2 only loads to logo screen (Windows)
Live Versions: All
Operating System: Windows
Common issues that can be fixed using the steps below:
Push 2 only loads to the logo screen
Push 2 keeps resetting to the logo screen
Push 2 keeps turning itself off and back on
Step 1: Configure the control surface properly
Open Live's preferences to the Link MIDI tab. Correct configuration is shown here: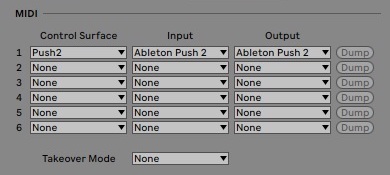 Make sure only one instance of Push 2 is selected in the Control Surface menu. If there are any extra Push 2 control surfaces, set all drop-downs to None for the extra instances.
Make sure that the Push 2 Control Surface Input and Output are set to Ableton Push 2 (Live port) and NOT Ableton Push 2 (User Port).
If in doubt, reset all the Control Surfaces menus to None: Then, turn Push 2 off and on again and wait for the device to auto configure.
Step 2: Check that the USB connection is working
Unplug the AC adapter from Push 2.
Connect it via USB directly to a USB port on the computer (not through a hub).
Make sure the cable is properly inserted into the Push 2 port; it requires a firm press.
Make sure you are using the provided USB cable. Push 2 requires a substantial amount of USB data traffic, and standard USB cables may not be fast enough.
If Push 2 powers up without the AC adapter, it is safe to assume that the USB data transmission is also working.
If it's not powering up without the AC adapter:
Again, make sure that you're not connecting it to a USB hub.
Try a different USB port on your computer.
Try a different USB cable (though its recommended to use that one that comes with the Push 2).
Make sure that the USB cable is fully inserted into your Push 2 - it requires a firm press to properly connect.
Step 3: Update Live, Windows and your graphics card driver
Push requires at least Live 9.5 in order to work. Download the latest version from your User Account.
Windows should be fully updated. Windows 7 requires Service Pack 1 in order to run Push 2.
The Push 2 display uses your computer's graphics card. If the graphics card driver is not fully up to date, it may cause display issues or prevent the Push 2 display from working entirely. See this article for detailed steps on how to identify and update your graphics card driver.
In case the issue is still present even after updating the graphics card drivers, you need to check whether it supports Open GL 3 or higher. Push 2 requires a minimum of Open GL 3 in order to render its display properly. To test whether your graphics card supports this, download this free diagnostic tool.
Reset Live as explained

here.
Step 4: Check whether Push 2 is recognized by your computer
Press Start, open Control Panel > Device Manager.
Make sure that Ableton Push 2 appears under both Sound, Video and Game Controllers and Push 2 Display appears under Universal Serial Bus devices.
Note that these items will appear only if Live 9.5 (or higher) has been started once with Push 2 connected.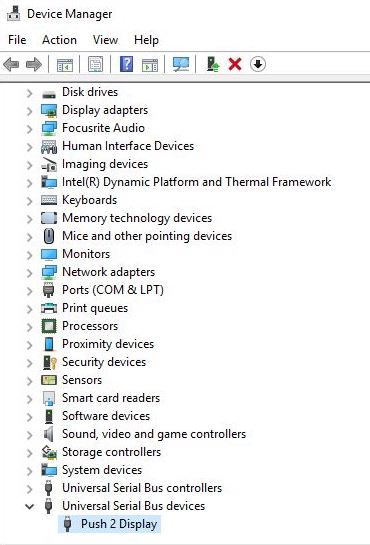 If Push 2 is recognized by Device Manager but not loading past the logo screen, then something may be preventing the Push 2 Control Surface script from working properly.
Step 5: Check the USB port power saving options
See our dedicated article with instructions: Push 2 display issue due to USB power port saving.
Step 6: Check if switching from integrated to discrete graphics card works better
On computers which have dual graphics cards (Dual GPU) installed, the integrated graphics card may not function as well as the discrete graphics card. In certain cases it is possible to force the Push 2 Display Process to use the discrete graphics card only. This external article explains how to set this up. Note: the availability of this option will vary between manufacturers.
Step 7: What to do if Push 2 is not recognized in Device Manager
If the Push 2 is not showing up in Device Manager, and you've completed steps 1-3 above, you could try to connect it to a different computer, which should reveal if the problem is specific to the computer or to the Push 2 unit itself.
Keep in mind that it might take a few seconds for the Push 2 Control Surface to become operational. Visual confirmation of Push 2 working correctly is the Session Ring which shows up in Live's session view:

Still not working?
If the troubleshooting steps here don't work, contact Support with a status report.