How to update Live 11
Live Versions: 11.2 and 11.1
Operating System: All
How to update from Live 11.1
Live 11.2 will be available as an automatic update from Live 11.1.6. To ensure that Live updates automatically:
Open Live's Preferences → Licenses/Maintenance
Under Maintenance → Get Automatic Updates, set the drop-down menu to Always.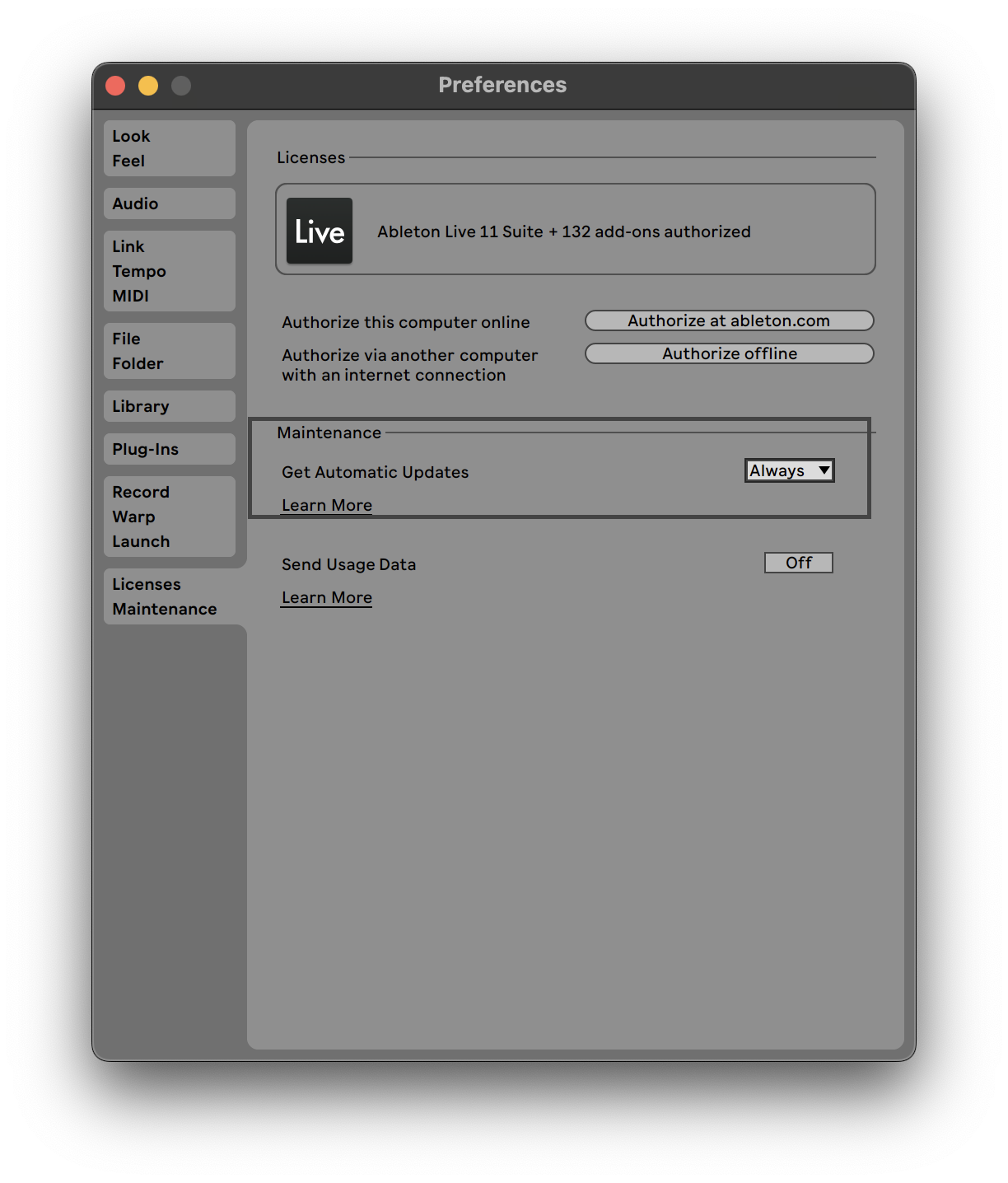 How to update from Live 11.0.12 or earlier
To update from Live 11.0, you must install 11.1 manually via our website. If your installed version is Live 11.0.12 or earlier, Live 11.1 will not update automatically, even if Automatic Updates are enabled in Live's Preferences. Login to your Ableton account for the link to download and install Live 11.1.
For more information, see How to update to Live 11.1.
Note: Sets cannot be re-opened in previous versions of Live (e.g. Live 11.0.12 or earlier) after being edited and saved in Live 11.1 and/or 11.2. To avoid accidental overwriting of an older set when opening it in Live 11.1 or later, Live will prompt you to save a new version, using the option "Save as…" Make sure to save this version under a new name:
For more information, see the Help Center article Backward Compatibility.
Live 11 Builds
While our website will automatically detect which installer is correct for your computer's operating system, you can still select between different builds of Live, depending on your operating system and processor. Here's how to choose the right build for your system:
macOS
Universal build:
Apple Intel (macOS 10.14 Mojave through macOS 12 Monterey)
Apple Silicon (M1, M1 Pro, M1 Max)
Intel build:
Apple Intel (macOS 10.13 High Sierra only)
Note: You can force Live to run as an Intel application via Rosetta 2 on an Apple Silicon-based Mac, as explained here. However, this isn't necessary if your plug-ins are updated for Apple Silicon. When in doubt, please check the latest Apple Silicon and macOS compatibility information provided by each plug-in developer.
Windows
Windows build:
Note for all builds:
More information about installing Live is available in these articles: