Live 11 Technical FAQ
Live Version: 11
Operating System: All
New Features in Live 11
Comping
How can I see the take lanes?
Take lanes are hidden by default. You can activate them in Arrangement View by clicking Create > Insert Take Lane or by selecting the clip and pressing the keyboard shortcut:
Mac: [Shift + Option + T]
Windows: [Shift + Alt + T]
Note: Take Lanes will not appear when you are in Automation Mode. You can switch off Automation Mode to view Take Lanes.
Can I use Comping in my version of Live?
Comping is available in Intro, Standard, and Suite.
Linked-track editing is available in Standard and Suite.
Keys and Scales
How do I use Keys and Scales?
Open Clip View of a MIDI clip and enable Scale in the bottom left corner of Clip View. Once enabled, select the Root Note and the Scale Name.
Can I exclude the notes that are not part of a scale on the piano roll in the MIDI Note Editor?
Yes. Within the MIDI Note Editor, enable the Scale button to see only the notes within the currently selected scale.
Note and Velocity Chance
What Chance options are available in Live 11?
Note Chance defines whether or not a MIDI note will be played using percentages.
Velocity Chance sets a velocity range in which the MIDI note velocity will be randomized within the defined limits.
I selected the Note tab in the MIDI clip, but I can't see Note or Velocity Chance.
Note and Velocity Chance can be viewed by clicking the appropriate icons: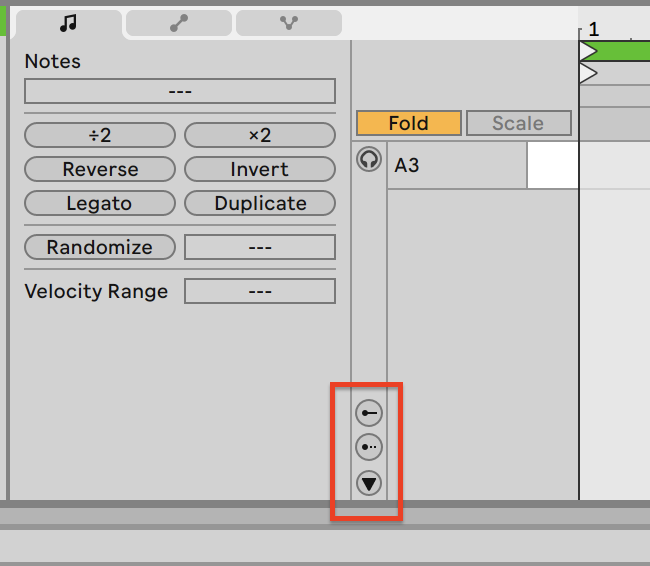 MPE
Can I use MPE with my MIDI controller?
You need an MPE-capable MIDI controller to use Live devices that have MPE functionality. Many third-party VST/AU plug-ins are also MPE-capable.
I don't have an MPE controller. Can I still use MPE?
Yes, MPE editing can be used to write modulation for individual notes by using either Draw Mode or the mouse to edit a curve and its breakpoints.
Which Live devices are MPE-capable?
Wavetable
Sampler
Simpler (MPE settings can be changed by converting to Sampler)
Arpeggiator
Tempo Following
Why can't I see the Tempo Follower button?
If you don't see the Tempo Follower button, you can activate it in Live's Preferences > Link/Tempo/MIDI > Tempo Follower > Show Tempo Follower.
I activated the Follow button, but Live is not following the tempo.
Make sure to have set the correct audio inputs in Live's Preferences under Link/Tempo/MIDI > Tempo Follower.
If the incoming audio signal does not contain a clearly defined rhythmic structure based on transients, Live can not analyze the correct tempo. Tempo Following is best suited for percussive elements or entire tracks.
Updates to Follow Actions
Scene Follow Actions
Scenes can now also use Follow Actions. You can view and edit them by clicking on a Scene. The options are the same as Clip Follow Actions, excluding any clip-specific actions.
When I click on the arrow next to the bypass button to unfold the Follow Actions Editor, why do I only see Prgm/Bank/Sub?
Seeing Prgm/Bank/Sub means you are in Arrangement View. Follow Actions are only available in Session View.
Macro Variations
How can I add or remove Macros?
Click the +/- buttons to show or hide two Macros at a time. Hidden Macros will keep any previous parameter mapping.
Can I exclude Macros from randomization and variations?
Yes, you can exclude Macros by right-clicking on them and selecting Exclude Macro from Randomization/Variations.
New devices in Live 11 Suite
Hybrid Reverb
Hybrid Reverb combines two different approaches to reverberation in one device, blending convolution reverb with a number of digital reverb algorithms. Using multiple routing options and parameters, you can create unique reverb sounds, or generate drone-like soundscapes, or transform any source material.
Spectral Resonator
Spectral Resonator uses spectral resonances and pitched overtones to add tonal character to any audio source. You can highlight chosen frequencies of the resonating partials and alter their decay, creating either short percussive reverberations or long washed-out tones.
Spectral Time
Spectral Time combines time freezing and spectral delay effects in a single inspiring device. You can re-synthesize your sounds by applying various spectral filters, delays and frequency-shifting techniques to incoming material, creating highly varied and unique copies.
PitchLoop89
PitchLoop89 is a pitch shifting effect, inspired by an early digital effects processor, enhanced with a few contemporary features; implemented in Max4Live.
Inspired by Nature
This pack is ideal for soundscapes, textures, generative music, evolving/non-repeating sounds, glitchy/chaotic/harsh sounds, unpredictable melodies, and in general sonic explorations through play and discovering new connections.
Updates in Live 11
ReWire
ReWire has been deactivated in Live 11. The developer, Reason Studios, ended support for ReWire in 2020.
Upload to SoundCloud
The Upload to SoundCloud export option has been removed in Live 11 as the feature is no longer supported by SoundCloud.
Python 3
An upgrade to Python 3 in Live 11 will prevent any outdated third-party or custom remote scripts from working. Once the manufacture(s) update their scripts to include the Python 3 update, they should work normally.