Installing multiple versions of Live
Live Versions: All
Operating System: All
It's possible to have multiple different versions of Live installed on your computer. For example, you might want to have the 32-bit and 64-bit versions of Live 9 installed.
Downloading another Live version
Previous Live versions are available in the download archive.
Installing another Live version
On Mac, you can just rename the existing Live application before copying over the new one from the .dmg installer. To rename the existing Live installation:
Open your Applications folder.
Select the existing Ableton application and press Enter to rename it.
Finally, copy over the previous Live version from the installer into your Applications folder.
On Windows, you will be asked if you intend to replace the present installation or if you prefer to install it side by side. Just click "Install other" and follow the instructions.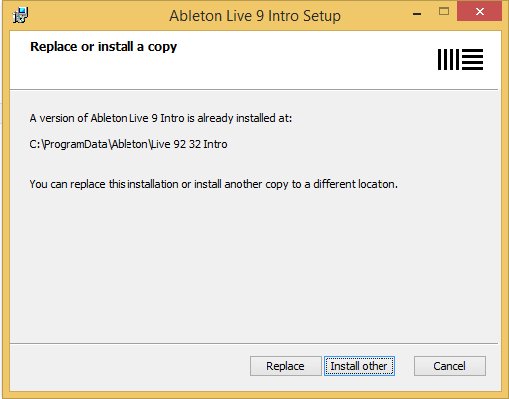 Preventing automatic updates
If you're installing an earlier version of Live, then you might want to disable automatic updates as a first step.
This can be done in Preferences → Licenses Maintenance.