Installing multiple versions of Live
Live Versions: All
Operating System: All
It is still possible to add different versions of Live without overwriting the existing installation. As newer Live versions have important changes, there may be a number of scenarios where you need to use the previous version (for example if a number of audio Clips present a difference in sound due to the updated Complex and Complex Pro Warp modes).
Downloading a previous Live version
Downloads for previous Live versions are available in our download archive.
Installing a previous Live version
On OS X, you can just rename the existing Live application before copying over the new one from the .dmg installer. To rename the existing Live installation:
Open your Applications folder.
Select "Ableton Live 9.app" and press Enter to rename the application.
Finally, just copy over the previous Live version from the installer into your Applications folder.
On Windows, you will be asked if you intend to replace the present installation or if you prefer to install it side by side. Just click "Install other" and follow the instructions in order to complete the installation.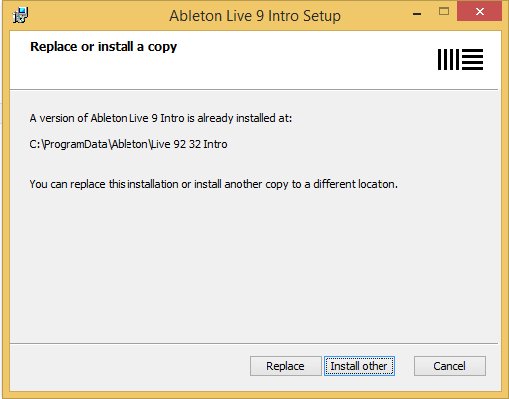 Preventing automatic updates
Because Live will start retrieving the update as soon as it launches, you will need to disable automatic updates as a first step.
This can be done via Preferences → Licenses Maintenance.