Collect All and Save
Live Versions: All
Operating System: All
When you save a Set using Save or Save as..., Live only stores references to the files used in the Set. If you're transferring the Set to another computer or user, we recommend that you use the Collect all and Save option.
Collect All and Save copies the following items into these subfolders within the Project folder:
Any audio files used are copied to Samples → Collected.
Any video files used are copied to Samples → Collected.
Any Max for Live devices used are copied to Presets.
Note: It's not possible to copy plug-ins to the Project folder. These need to be installed separately on each computer.
How to "Collect All and Save" a set
Step 1:
First make sure you have saved the set into a unique Project folder.
Step 2:
From the File menu click Collect All and Save.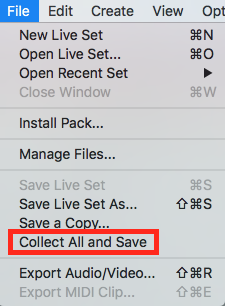 Or you can also do this through Live's File Manager.
File→ Manage Files → Manage Project → External Files → Collect Into Project: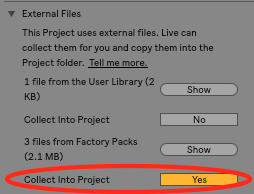 Step 3:
Specify which media files should be copied and click "Ok".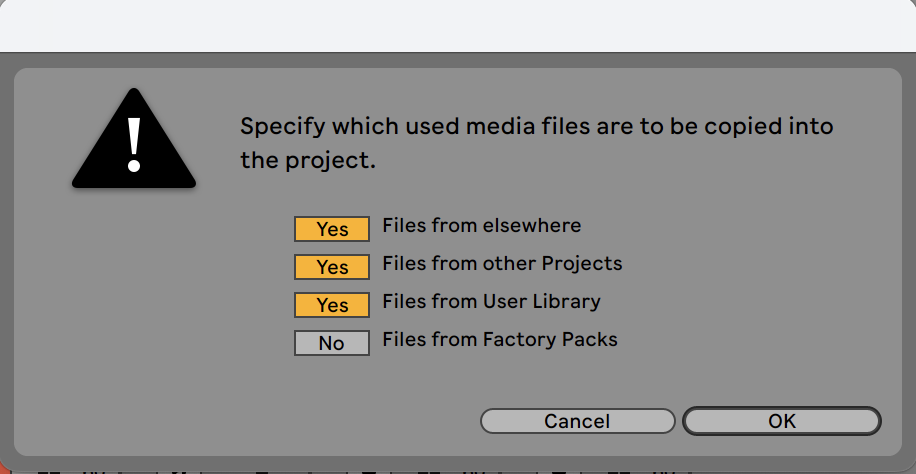 Check all/only the relevant boxes. If transferring a project to another computer without the same Packs installed, check the "Files from Factory Packs" box.
Step 4:
To move or transfer the project, copy the entire Project folder including all subfolders and files.
Here is an entire Project with all its subfolders: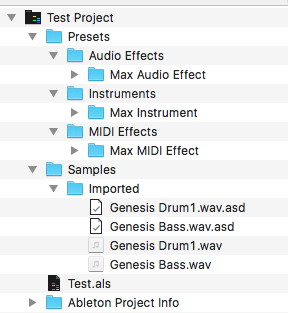 For our recommendations on transferring a Live Set, please check this guide.