How to 'Collect All and Save' a Live Set
Live Versions: ALL
Operating System: ALL
The best way to move a Set from one computer to another is to use the 'Collect All and Save' option.
A copy of all of the external media files used in your Project will then be saved to a subfolder within your Ableton Live Project folder.

Project Folder
The links within the Project will also be updated to point to the Project subfolder, meaning anytime you wish to move the Project, the file links will remain intact by making sure to move the whole Live Project folder. 
The two ways to access this feature are via the 'File Menu':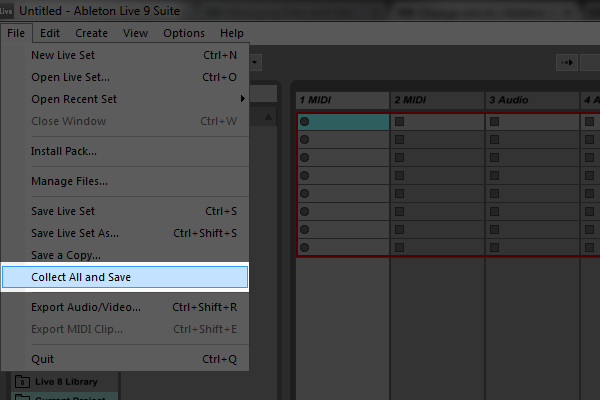 File Menu
Or through Live's File Manager: 
Manage Set → External Files → Collect Into Project: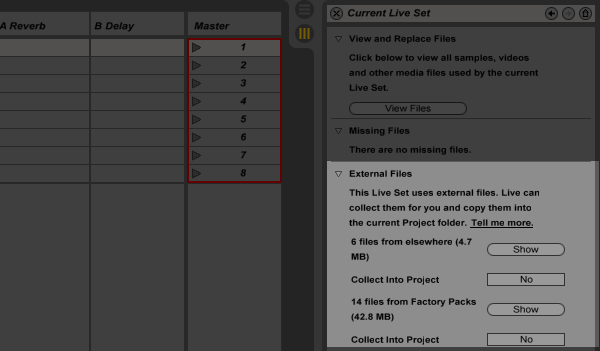 Manage Files
To prepare a Project to be moved, you can follow these basic steps:
Select File → 'Collect All and Save'
Specify from where you would like to gather all of the files. For most cases, selecting all options is recommended, unless you are comfortable with the file-system, or existing Library on the destination computer. 
Note: It is important to move the whole Project folder when transferring the project. This will contain the Project ALS file, and the subfolders containing Project Data, Samples and Max Devices.

Project Folder
If 'Collect All and Save' does not function as expected, please see this article.
For additional info on transferring a Live Set, feel free to see this guide for recommendations. 
Our dedicated Chapter in the Live Manual also covers this area in detail.