Installation of Live 9
Live Versions: 9
Operating System: All
Downloading
Log in to your User Account, select the Live version and the operating system from the drop down menus and click "Download".

Installing
Mac:
Double-click on the downloaded DMG file and a mounted disk named 'Ableton Live 9' will appear on your desktop and open automatically.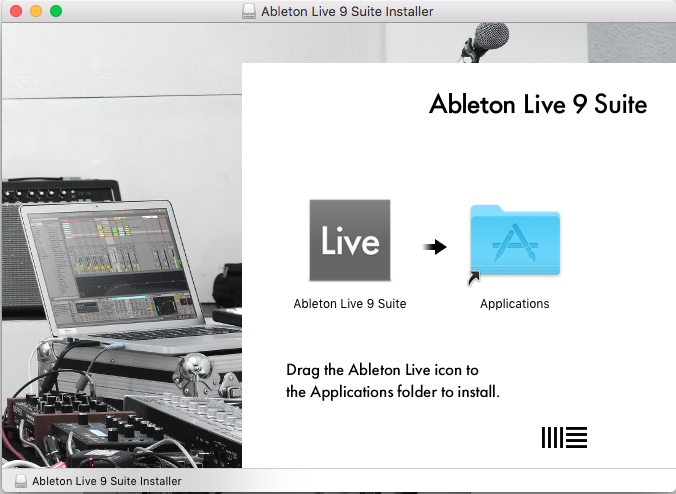 As shown, drag the Ableton Live 9 icon onto the Applications folder shortcut.
Once it's been fully installed, open the Applications folder in Finder and double click on the Ableton Live 9 application. You can then add it to your Dock for quick access.
Windows:
Please unpack the downloaded zip file by right-clicking on it.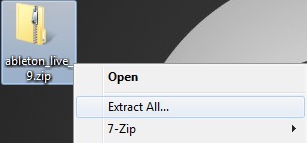 Choose "Extract All..." from the drop down menu and launch the Setup.msi file by double clicking it once the file has been unpacked. The setup wizard will guide you through the steps necessary to install Live 9 on your Windows machine.
Once the installation has completed, click on the Windows Start menu where you'll find the Live 9 shortcut.
Authorizing
When starting Live for the first time, follow the instructions on the authorization dialog in order to authorize Live online.
If you'd prefer to authorize offline or would like additional information, step-by-step instructions are available.
Installing additional sounds
Several Live Packs are available for download from the Your Packs section on the Ableton website.
Once Live is installed, you can install these Live Packs, which will add additional sounds, presets and other content in a dedicated directory on your hard drive.
You can also buy additional Live Packs in Ableton's online Pack store.
See also:
Where is my Library stored?
Can I install Live Packs from Live 8 or older in Live 9?
Learning more
To learn more about using Ableton Live, we recommend watching our series of Getting Started tutorials. Live also comes with a series of built-in interactive lessons, which are available in Live's Help View. The Help View can be opened via Live's Help Menu.
Find out how to install and set up Max for Live.