Opening Sets in Live Intro or Standard that were created using Live Suite or Live Trial
Live Versions: All
Operating System: All
Opening a Set in Live Intro or Standard that contains devices or features only available in Live Suite (and Live Trial) may cause the Set to open in Demo Mode, with saving and exporting temporarily deactivated (a full feature comparison is available here).
When the above happens, Live will display this error message:
"This Set contains features that are limited or unavailable in Ableton Live [Intro or Standard]", as seen here: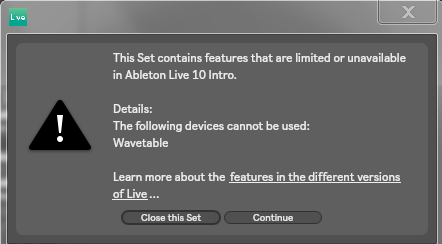 Also, Live's Status Bar may read "Saving and exporting are deactivated":

In order to re-enable saving and exporting, the unavailable features or devices must be removed by Freezing and Flattening the tracks, using the method below.
Note: If available, please open the Live Set in the version in which it was originally created. Doing so will allow you to render the instruments and devices into raw audio via Freezing and Flattening. If you don't have access to the version of Live in which the Set was originally created, you can still re-enable saving and exporting by Freezing and Flattening. However, when Freezing and Flattening, the unavailable effects, instruments, and devices are simply bypassed/removed, and will not be present in the rendered audio.
1. Open the Live Set and Freeze and Flatten all tracks containing devices which are not available in Intro or Standard. You can do this by selecting the tracks you want to freeze, then right-clicking on a track's title and selecting "Freeze Track".

2. Then, select the tracks again, right-click and choose "Flatten". This will remove all devices from the track, leaving you with a track of rendered audio.

3. For Live Intro, which is limited to 8 scenes and 16 tracks, you'll need to delete any extra scenes and/or tracks so that this limit is not exceeded.
4. Open Live's Preferences and go to the Licenses/Maintenance tab. There, click on "Authorize at ableton.com". This will open the Ableton account page in your web browser and will re-authorize Live.
Now, the set can be saved and exported again.
----------------------------------------------------------------------------------------------------------
If you would like to upgrade your Live license to a more fully-featured version, you can log into your Ableton User Account and visit the Shop to see your discounted upgrade pricing.