Link Troubleshooting
Live Versions: 9.6 and later
Operating System: Win 7, 8, 10; Mac 10.7.5 and higher
Why are my apps and Live not connecting?
In order to sync their apps with Live, app developers must first integrate Link into their apps before they can connect with Live. For a listing of apps that currently contain Link, see our Link Website.
Certain apps require certain processes for using Link:
Though Link is made to immediately connect to other apps on the network, this can be hindered in certain situations:
too much other traffic on the network
some routers block Multicast, which is necessary for Link to function properly.  Most routers do not have this issue, but some older models can block Multicast.
active firewalls on both Mac and Windows computers can stop Link from working.  You may need to ensure that Port 20808 is not blocked.
Live has not been allowed to receive network connections. This can happen also due to third-party apps such as Little Snitch.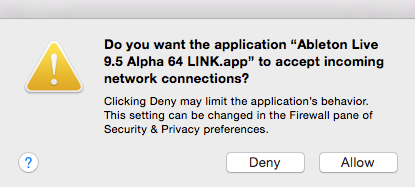 Allow incoming network connections (Mac)
How do I set up an ad hoc network?
Why is there a constant offset between my application and others?
Though Live, and therefore Link, compensates audio latency, there can be certain situations where Live is not able to compensate all latency.  The following things can affect sync and cause an offset.
Routing Live's output through external signal processing.
If certain plug-ins do not report their internal latency to Live correctly, Live cannot compensate for these plug-ins, and this latency can affect Link's sync.  
In the above cases, you can adjust the Master track's Track Delay to adjust the sync between Link peers.  To find the right settings it is helpful to play the same Clip on all connected instances of Live.
On Windows computers, using DirectX audio drivers can affect Link's sync.  In general, we recommend using ASIO drivers in all possible cases.
Other things to check are Live's Time Signature and Global Quantization settings.  To ensure a tight sync, these should be set the same. When these settings are different between computers or apps, you can experience your music playing in sync but off-beat.
Why are my apps are not staying connected/losing sync?
If the network gets too crowded, apps can lose connection. However, it would take an extreme amount of Link users to cause this to happen.
Why does Link not appear in Live's Transport Bar even though I have toggled it in MIDI Preferences? 
With version 9.7.1, Link usage is only possible with supported audio drivers. If Direct X/MME is selected in Audio Preferences, Link will be automatically disabled and therefore not show up in the Live Transport Bar.
Make sure to select an ASIO driver (e.g. the one which you would use with your external audio interface) in Live's Audio Preferences. 
In case you do not use an external interface, install ASIO4ALL, a free ASIO driver. Find out how to install and set up ASIO4ALL with Live here.
Where can I get further support for Link?
If you have issues with Live and Link, contact Ableton Support.
For issues with specific apps, you must contact the developer of the app for further support.