Live does not launch because of a missing dll (Windows)
Live Versions: 9.2 and higher
Operating System: Win
As of Live 9.2, some Windows users may run into the following error upon program launch.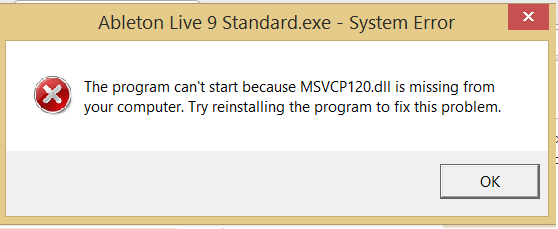 Alternatively, users may see that "MFCU120.dll" or "MFC120U.dll" is reported as missing.  Most missing .dll messages found after installing Live 9.2 on Windows can be resolved by re-installing the Microsoft Visual C++ package, which can be found on Microsoft's Visual C++ Redistributable Packages page.  Read more about these updates.  
While Visual C++ is installed together with Live when performing a manual installation, it cannot be installed via automatic updates, thus it is necessary to install the Visual C++ package manually.