How to run Live as Administrator (Windows)
Live Versions: All
Operating System: Windows 10, 8 and 7
Running Live as administrator gives the program a higher level of access to the operating system and can solve a variety of problems, for example:
Importing certain samples, and other media files. 
VST plug-ins not running correctly, or licensing not being preserved. 
Problems installing Live Packs.
Issues when running Live as ReWire client.
To run Live as administrator:
Locate the Live icon on the Start Bar, Task Bar, or Desktop.  
Right-click the icon, and select the 'Run as administrator' option. 
You can also use the shortcut: CTRL + SHIFT and click the icon.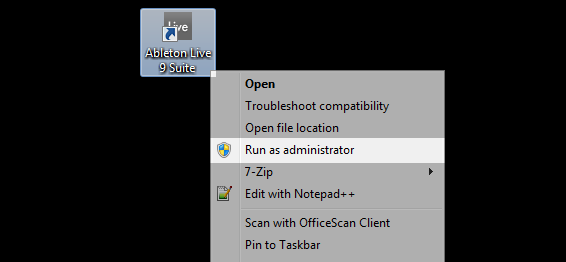 To permanently run Live as administrator:
Right-click the Live icon from the Desktop, Start Bar or Task Bar. 
Choose 'Properties' from the list.
Select the 'Compatibility' tab. 
From the 'Privilege Level' section, tick 'Run this program as an administrator'.