Where do I find Live's Crash Reports?
Live Versions: 8 - 9
Operating System: ALL
A Crash Report is a file archive, created by Ableton Live when launching Live the next time after a crash appeared, containing system crash logs, information about your setup and a log of what Live has done since it was last opened.
Such a Crash Report Pack can be accessed through a link provided in a dedicated Live Lesson which is shown on the right side of Live's application window, when Live is started the next time after a crash happened.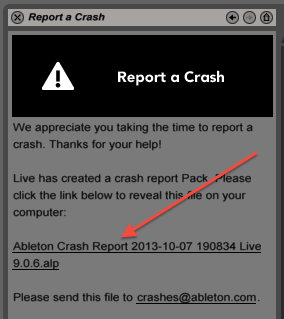 Live Lesson with the link to a Crash Pack
In order to help our development team improve the stability of Live, please send those files as mail attachment to crashes@ableton.com. Note: emails sent to the aforementioned address won't be answered. If you need further information about a crash, please visit our technical support page.
If you close the Crash Report Lesson or quit and restart Live again, the link for the related Crash Report Pack is gone. If you want to report it to Ableton later on, please create a Status Report from Live's Help menu. With the link to the recent Report, you'll directly get to the location where also older Crash Reports are available. Please attach all of them when contacting support.
Live doesn't start anymore, so I cannot obtain any Reports!
In this case, the crash report packs can be found and retrieved here:
Windows XP
\Documents and Settings\[username]\Application Data\Ableton\Live Reports\
Windows Vista, Windows 7, Windows 8
\Users\[username]\AppData\Roaming\Ableton\Live Reports\
Mac OS X
/Users/[username]/Library/Application Support/Ableton/Live Reports/
In the following knowledge base article you can learn how to access hidden folders on Windows and Mac.
There are no Crash Report Packs on my machine!
In certain cases, for example when Live doesn't launch anymore, no crash packs will be available. Please refer to the following article for information how to troubleshoot crashes while Live is launching. If this doesn't help, please send Live's log file to Ableton support. On Mac please also send the crash logs created by the system.
Live's log file can be found here:
Windows XP
\Documents and Settings\[username]\Application Data\Ableton\Live x.x.x\Preferences\Log.txt
Windows Vista, Windows 7, Windows 8, Windows 10
\Users\[username]\AppData\Roaming\Ableton\Live x.x.x\Preferences\Log.txt
Mac OS X
/Users/[username]/Library/Preferences/Ableton/Live x.x.x/Log.txt
On Mac the system crash logs are stored here:
OS X 10.4 (Tiger)
/Users/[Username]/Library/Logs/Crash Reporter/live.crash.log
OS X 10.5 (Leopard)
/Users/[Username]/Library/Logs/Crash Reporter/live.xxxx.crash (xxxx = crash date and time)
OS X 10.6/10.7/10.8 (Snow Leopard/Lion/Mountain Lion)
/Users/[Username]/Library/Logs/Diagnostic Reports/live.xxxx.crash (xxxx = crash date and time)