Push 1 & 2: User Mode for custom MIDI mappings
Live Versions: All
Operating System: All
What is Push's User Mode?
Push's User Mode allows for the use of custom MIDI mappings.
You can enter User Mode by pressing the User button on Push. This will switch off Push's regular functionality to allow you to create your own MIDI mappings (as you would with any regular MIDI controller).
How can I configure Push's User Mode?
In order to create custom mappings, Push's User ports first need to be properly configured in Live's MIDI Preferences.
Below are images outlining the correct configuration for Windows and Mac.
Note: In Windows, the User Port is called Ableton Push (Port 2), and on Mac it is called Ableton Push (User Port).
To set these up, open Live's Preferences and click on the MIDI/Sync tab.
For the input User Port, the Track and Remote switches should be enabled, allowing Live to receive MIDI note information and MIDI Control Change messages from Push.
For the output User Port, the Remote switch needs to be enabled to allow visual feedback via Push's LEDs.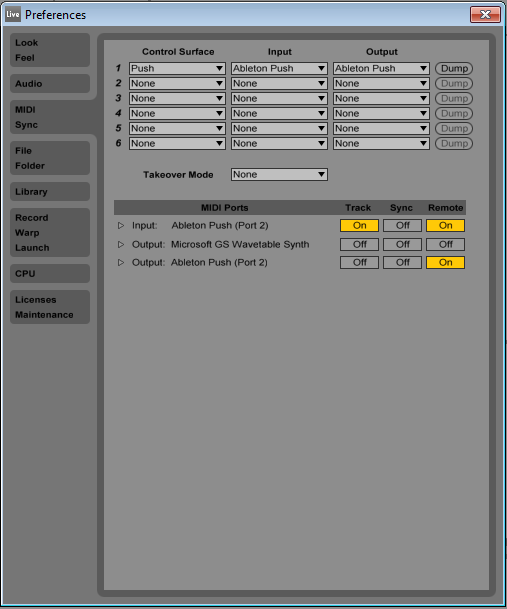 Push's MIDI Preferences (Win)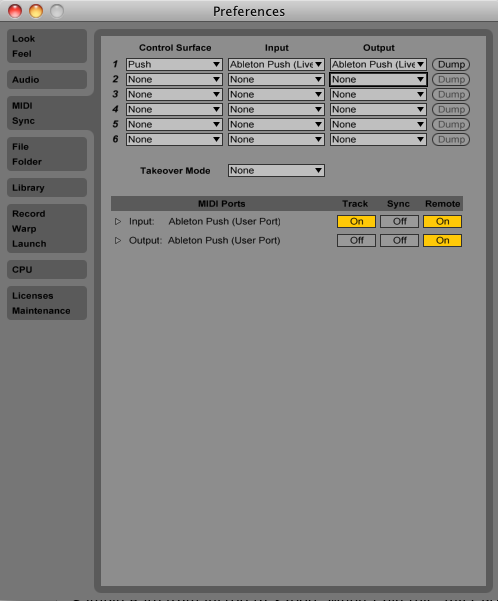 Push's MIDI Preferences (Mac)
Now that Push's User Port is correctly configured, you can manually MIDI-map almost any component. In case you wish to control your external hardware with Push 2, please have a look at this article.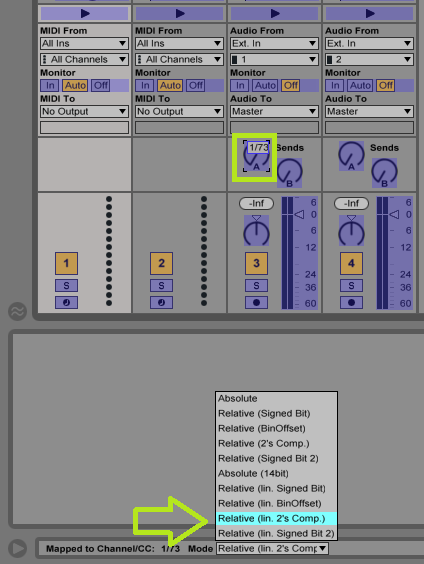 Additional Information
You cannot map the User button itself as this would make it impossible to leave User Mode.
The Touchstrip can be mapped but will continue to send Pitch Bend information simultaneously.
Touching the top of an encoder will send a MIDI Note, while turning the encoder will transmit a Control Change message (both can be mapped separately).
All buttons (except the 8x8 pad grid) send Control Change messages. This means they send values of 0 and 127 and can't be used to "toggle" parameters.
When mapping an encoder, the correct Mapping Mode is Relative (lin 2's Comp.), which can be chosen from the Status Bar.
Push's LCD will not display any feedback when creating custom MIDI mappings in User Mode.