Recovering a Set manually after a crash
Live Versions: 10, 11
Operating System: All
Live's file recovery process is usually triggered by an undo file in Live's preferences folder. If that doesn't happen automatically, or if you click "No" on the restore document dialog, then the relevant files needed to recover the set are moved in a folder named "Crash" located in Live's preferences folder.
Those files/folders are:
Basefiles - A folder containing the crashed set, the template or default set
Undo - A folder containing the Undo history
CrashRecoveryInfo.cfg - file which contains more information about the crashed set
To retrigger the file recovery process, please follow these instructions.
Important Information
File recovery must be done with the same Live version which created the undo file - this applies to the Live version number, and the same OS platform (Windows, Mac)
Step 1: Go to the following location, which is normally a hidden folder.
Windows - Users\[Username]\AppData\Roaming\Ableton\Live x.x.x\Preferences\Crash\
Mac - Users/[Username]/Library/Preferences/Ableton/Live x.x.x/Crash/
Note: Live x.x.x refers to the version number in which the crash occurred, e.g. Live 10.0.5.
Step 2: In the Crash folder, you should find files and folders with the date and time of the crash in their names:

Note: If you had more than one crash, there will be multiple files/folders, each named with the date of a crash. In this case only use the ones corresponding to the crash that you wish to recover.
Step 3: Rename them by removing the dates from their names, so that they read as follows:

Step 4: Drag those 3 items into the parent Preferences folder and replace their counterparts when prompted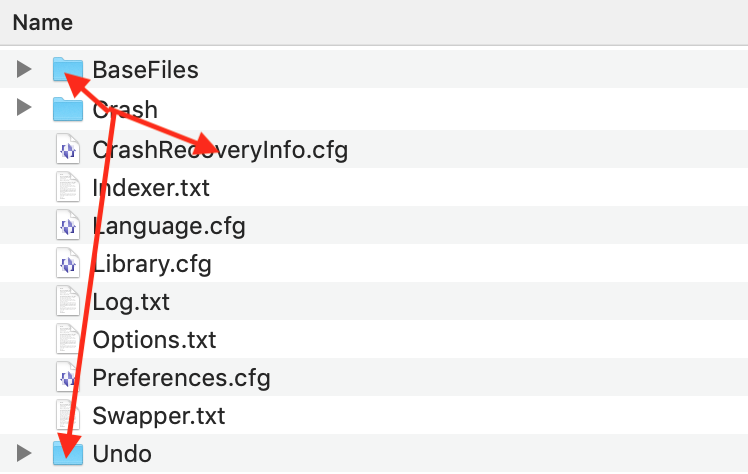 Step 5: Now start Live. The file recovery process should be triggered again.
If the file recovery fails, please contact Ableton support and send us Live's latest Crash Report packs. Those packs normally contain the relevant files needed. We will then try to recover the work.
Note: Read the instructions to recover a Live set manually in Live 9