Improved CPU Metering in Live 11
Live Version:

11

Operating System:

All
CPU Metering in Live 11
Live now includes per track CPU load metering as well as an improved overall CPU Load Meter, helping you to more accurately gauge and respond to CPU activity while using Live.
Note: You may find that the CPU load meter is more active in Live 11 when using the "Current" setting compared to Live 10. This is expected as the meter is now capable of measuring and displaying the total current CPU usage. The CPU meter in Live 10 is only capable of measuring the average CPU, which results in the meter fluctuating less frequently.
Per Track CPU Load Meters
Per track CPU meters help you gain a better overview of the amount of CPU each track your Live Set is currently using. This feature is useful in both the studio and in live environments, providing you deeper oversight on which elements can be adjusted for optimal performance.
Where is the Per Track CPU Load Meter?
You can view the CPU meter on the bottom of any MIDI or audio track in Session View.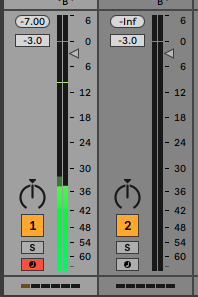 How do I enable Per Track CPU Load Meters?
To enable this function, navigate to the Show/Hide CPU Load Meter Section on the right side of Live's Session View and select the "C" icon.
Improved overall CPU Load Meter
The improved CPU Load Meter now displays the current (total) CPU usage as well as the average CPU usage.