Using Live on High-DPI Monitors (Windows)
Live Versions: 9-10
Operating System: Windows
Live's GUI may appear blurry or out-of-focus on Windows systems using high-resolution monitors.
This happens when the Windows Zoom settings are set to anything other than 100% (Windows 7) or something other than "Smaller" (Windows 10, 8)
Live 10
Live 10 has High-DPI support for Windows 10 computers. Make sure to enable the HiDPI mode preference: Look/Feel → Enable HiDPI mode.
Live 9
In order to resolve this issue on Live 9:
right-click on the Live shortcut in the Start Menu and choose "Preferences" from the list.
go to "Compatibility".
tick "Disable display scaling on high-DPI settings".
"Apply" these settings.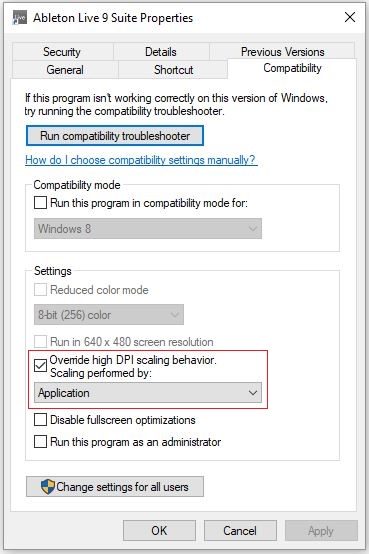 Note: Plug-in GUI windows will appear small when using this method.