Push 2: Focus for Nested Drum Racks
Live Versions: 9, 10
Operating System: All
In Live, it is possible to use Drum Racks within Drum Racks to create custom routings.

The "Kit-Electrify" Drum Rack contains nested Drum Racks
When playing these kind of Drum Racks on Push, having the Auto Select buttons mis-configured can cause Push's drum pads to become "stuck" (i.e. pressing a pad won't select that sound).
In the example of the Kit-Electrify Drum Rack, disabling Auto Select for the 2nd Drum Rack fixes the issue.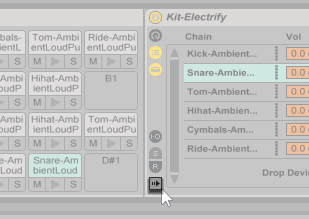 Read more about Auto Select and Drum Racks here.