Using Control Surfaces
Live Versions: 6 - 9
Operating System: All
This article explains what Control Surfaces are and how to configure both native and third-party scripts in Live.
It also provides a hint on how to stop Control Surfaces being automatically selected, should this not be desired.
What is a Control Surface?
Control Surfaces are devices containing one or more controls that are automatically assigned to parameters in Ableton Live, allowing tactile control of the software.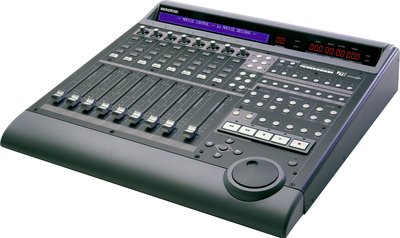 Normally, with a generic MIDI hardware controller, you would need to map every knob, slider and button one-by-one to achieve the functionality you want.
Live's native Control Surface feature overcomes this by using MIDI Remote Scripts. These are, in their most basic form, a set of pre-defined MIDI mappings. In more advanced forms, these scripts allow for far more control than conventional MIDI mappings - Push is a perfect example of this. 
Should you prefer to use your own MIDI mappings, you can disable these Control Surface functions as explained here.
How to configure a Control Surface?
Natively supported or third-party?
If your Control Surface is among our natively-supported Control Surfaces, the MIDI Remote Script is already included in Live.
Otherwise, in the case of third-party scripts, please visit the manufacturer's website to download the script and follow the installation instructions provided.
Live will automatically detect a number of common MIDI devices and configure the Control Surface settings accordingly, so these devices will just work instantly.
Should this not be the case, you need to manually enable your Control Surface functions in Live's Preferences.
How to set up a Control Surface in Live's Preferences
If the Control Surface is not detected automatically, or once you have installed the third-party script, open Live's Preferences and show the MIDI/Sync tab.

First, select your Control Surface (e.g. Push).
Next, you will need to link this selection to the corresponding Input and Output ports your Control Surface is connected to. In the case of Push, the correct ports will be "Ableton Push" (Windows) or "Ableton Push (Live Port)" (OSX).
If you are unsure which ports to choose, please refer to the installation instructions that came with your MIDI device.
What if I don't want to use the Control Surface functions?
Each time you start Live, it will automatically configure your Control Surface from now on. This might be undesirable as perhaps you wish to always use your own custom mappings.
To achieve this, in the Preferences' MIDI/Sync tab, select "None" in the Control Surface chooser, but keep the Input and Output ports set to the corresponding MIDI device. This will prevent the automatic detection of your Control Surface.
On certain Control Surfaces (for example the APC 40), in order to use manual mappings, it is not even necessary to disable the MIDI Remote Script as described above. Manually mapping a parameter will disable its regular function to allow for the custom assignment.
Other devices like Push have a dedicated User Mode. This means that after configuring the User Ports correctly, you can press a button on the device (the "User" button on Push) to temporarily disable the MIDI Remote Script functions, allowing you to swap back and forth between your own mappings and those pre-defined.
In order to use such custom mappings or the User Mode, it is necessary to correctly configure the MIDI ports your MIDI device is connected to. Generally, you will need to enable the "Track" and "Remote" Input switches (to allow for MIDI data receiving and mapping) and the "Remote" Output switch (to allow for visual feedback). The exact configuration might vary depending on your MIDI device.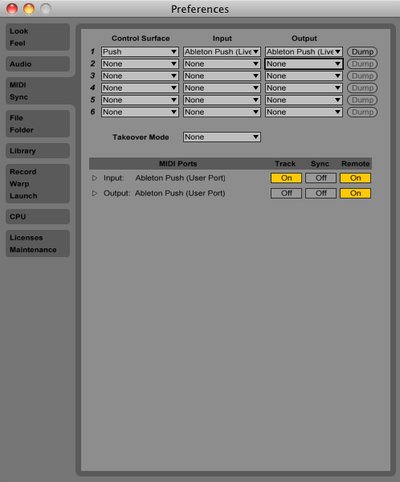 There's an article that explains Live's MIDI ports in detail. If you own a Push, you can also get an in-depth look into the configuration and functionality of its User Mode.
Additional Information
How to configure your own MIDI mappings?
A list of natively supported Control Surfaces with Live 9
Using Push's User Mode for custom MIDI mappings