Using Control Surfaces and custom MIDI mappings
Live Versions: 6-10
Operating System: All
What is a Control Surface?
Control Surfaces are specially written scripts which allow controllers to interface with Live. They enable tactile control of Live through pre-defined parameters.
Here an Akai APC40MKII is being used with its control surface to interface with Live: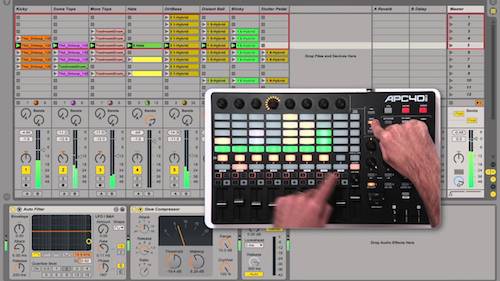 Push also interfaces with Live through the use of a control surface: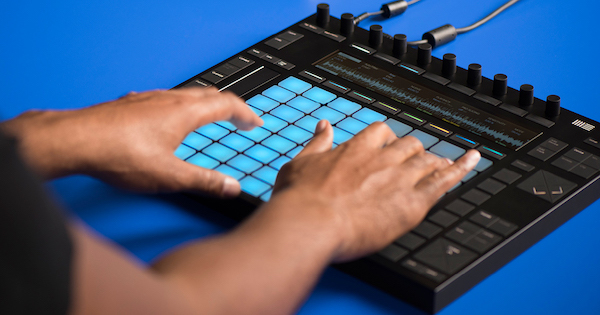 Natively supported Control Surfaces in Live
Here is a list of the natively supported control surfaces in Live.
Configuring a Control Surface in Live's Preferences
Normally a control surface will be chosen automatically when you connect a device. If that doesn't happen, it can be enabled manually:
Open Live's Preferences to the Link/MIDI tab.
Select your Control Surface (e.g. Push)
Then select the correct Input and Output ports for that device
If you're unsure which ports to choose, please check the manual for your MIDI device

How to disable a Control Surface
In case you wish to stop a control surface from activating:
Open Live's Preferences to the Link/MIDI tab.
Select "None" in the Control Surface chooser
Keep the the correct Input and Output ports for that device
This will prevent the automatic detection of your Control Surface.

Overriding a Control Surface with custom MIDI mappings
On certain Control Surfaces (for example the APC 40), in order to use manual mappings, it is not even necessary to disable the MIDI Remote Script as described above. Manually mapping a parameter will disable its regular function to allow for the custom assignment.
Accessing User Mode on a controller
Some devices like Push or the Novation Launchpad have a dedicated User Mode. This means that after configuring the User Ports correctly, you can enter user mode and create your own custom mappings, allowing you to swap back and forth between your own mappings and pre-defined ones.
How to make custom MIDI mappings
In order to use such custom mappings or the User Mode, you'll need to configure the MIDI ports. Generally, you will need to enable the "Track" and "Remote" Input switches (to allow for MIDI data receiving and mapping) and the "Remote" Output switch (to allow for visual feedback). The exact configuration might vary depending on your MIDI device. More details in our article on Live's MIDI ports.
To manually MIDI map a parameter:
Turn MIDI map mode on (Mac: CMD + m, Windows: Ctrl + m)

Select the function you wish to map, eg. a volume fader
Move a knob or slider on your controller
The controls are now mapped
Repeat as required for the remaining controls you wish to map
Exit MIDI map mode
Using Third Party Control Surfaces
It's possible to also install third party control surfaces for devices (where available).
Creating custom Control Surfaces
It's possible to create control surfaces with basic functionality in Live. See Creating your own Control surface script.
Additional Information