Opening sets in Live Intro that were created in Live Standard or Suite
Live Versions: All
Operating System: All
Abstract
Live Intro has a smaller feature set than Live Standard and Suite. A Set created with Live Standard or Suite might load in demo mode or be slightly changed when loaded in Live Intro due to devices used in Standard or Suite not being available in Intro.
Likewise, sets created in Live 9 Suite may not be able to be opened in Live 9 Standard. The process below is still the same, independent of which situation you are in.
Error Messages
"This set contains features that are limited or unavailable.."
"Saving and exporting are deactivated"
When opening such a Live Set, you will probably see an error message similar to this one, in which case you can click on "Continue":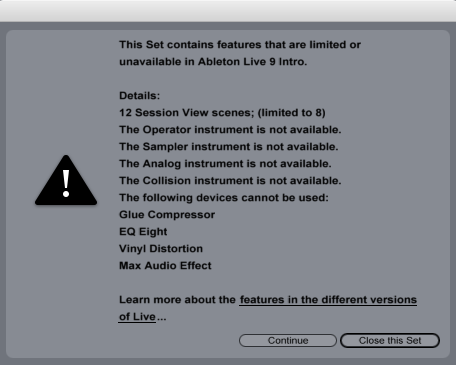 Also, Live's Status Bar will most likely show the error that "Saving and exporting are deactivated":

Tutorial
Here's a comparison chart showing the differences between the three versions of Live.
If the Set created with Live Standard or Suite doesn't exceed any of the Live Intro limitations, it can be loaded, edited and saved without any difference.
If either or both of the following limitations is exceeded, the set can still be edited and saved as usual, but is slightly changed on loading:

Since Complex and Complex Pro warp modes are not available in Live Intro, clips that use these modes will load in Beats mode when used with the Set.
Since Live Intro only allows two stereo audio inputs/outputs, any additional channel routings will be muted (but can be manually adjusted to the two stereo channels).
If any other limitations are exceeded, the Set can still be loaded as read-only, switching Live Intro temporarily to demo mode, so saving and exporting are not possible.  In this case, we recommend the following process:

in Live Intro, Freeze and Flatten all tracks containing devices which are not available in Intro.  You can do this by selecting the tracks you want to freeze, then right-clicking on a track's title and selecting "Freeze Track".

Then, select the tracks again, right-click and choose "Flatten".  This will remove all devices from the track, leaving you with a track filled with rendered audio.

If the set has more than 8 scenes and/or 16 tracks, you must delete the extra scenes so that this limit is not crossed.
Open Live's preferences and go to the "Licenses/Maintenance" tab.  There, click on "Authorize at ableton.com".  This will open the Ableton account page in your web browser and authorize Live.
Now, the set can be saved again.
Of course, you can always upgrade your Live license in our webshop, giving you the full range of possibilities of the Live 9 Suite, with no limitations.