Link - linking devices and apps
Live Versions: 9.6 and higher
Operating System: Windows 7, 8, 10; Mac OS X 10.7.5 and higher; iOS; Android
1. Enabling Link in Live
Connect your computers/devices to the same network. If there is no internet connection available you can use one of the methods shown at the bottom of this article.
In Live, open the Preferences -> Link/MIDI tab and ensure that "Show Link Toggle" is enabled.


Then enable Link by clicking its button on the far left of Live's control Bar. If there are any other Link enabled devices on the same network their count will be displayed here.

Note: Live can't accept incoming MIDI Sync while Link is active; the "Sync" input ports are thus made inactive.  
Live can't be used as a ReWire Device when Link is active. In order to use Live as a ReWire Device, first turn off Link, then re-start Live after the ReWire master program has been opened.
Link Indicator
If at least one other Link-enabled app or instance of Live is connected, the Arrangement Position display will show a moving "progress bar" whenever Live's transport is not running. This bar is a representation of the Live Set's global launch quantization in relation to that of the other participants in the Link session. After you trigger playback, Live will wait until this bar is filled before starting.

2. Enabling Link in an iOS or Android app
As this is different for each app, check the Settings/Preferences/Options of your app.  If it supports Link, you will see an "Ableton Link" setting. In this preference, enable Ableton Link.
Link activator on an iOS app: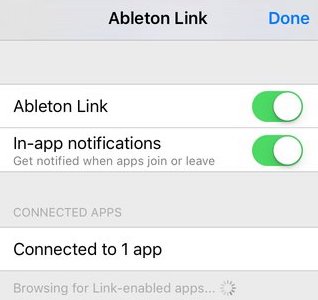 Link activator on an Android App:

3. Connecting Link-enabled devices without an internet connection
You can use one of the following methods to connect your Link-enabled devices:
Ad-hoc network - This allows you to create a private network between devices without the need for an internet router. Follow the instructions here depending on your OS:
Mac OS 10.10 and higher
Windows 7
Windows 8
Windows 10
iOS (connection to a cellular network required)
WIFI Router - The router itself doesn't need to be connected to the internet to create a private network. Simply connecting two devices with Ethernet cables to the same router is enough to transfer network data between them. Otherwise check the help files for your router in order to set up a private WIFI network.
Ethernet or Thunderbolt Cable - Directly connect two computers using either Ethernet or Thunderbolt cables, both of which are capable of transmitting network data.
Lightning Cable (iOS) - Lightning cables support network data transfer.
Lightning to Ethernet adaptor - You can directly connect an iOS device to another mobile device, using a Lightning to Ethernet adaptor (usually sold as a Lightning Camera Adaptor). If connecting an Android device to another mobile device, you'll need to use an Ethernet adaptor and install Marshmallow for Android, as per the instructions on this third party site.
Note: It's not possible to use Link over Bluetooth, nor is it possible to use Link on a VPN (virtual private network).
In case you're having issues, check our Link Troubleshooting guide.