Using VST plug-ins on Windows
Live Versions: All
Operating System: Windows
Installing plug-ins
A VST plug-in often has two separate installation locations. The stand-alone version usually gets installed into a subfolder of "Program Files". This subfolder is normally named after the plug-in developer.
The second location is for the VST plug-in itself (a DLL file). The DLL file should be installed to the following default system folder: 
64 bit plug-ins: C:\Program Files\Steinberg\Vstplugins\
32 bit plug-ins: C:\Program Files (x86)\Steinberg\Vstplugins\
Important:
Most plug-ins will install into these folders by default, but in certain cases you might have to point the installer to the correct location.
Make sure to install the correct version of a plug-in (64-bit or 32-bit). 32-bit plug-ins won't show up in the 64-bit version of Live and vice versa. Note: Live 10 is 64-bit only.
Always install VST plug-ins directly to the correct folder, rather than manually moving the DLL file afterwards.
VST plug-ins might stop working when the stand-alone application of the plug-in gets moved, renamed or uninstalled.
Don't install the standalone version of a plug-in to the VST plug-in DLL folder.
Don't install 32-bit and 64-bit versions of plug-ins to the same folder.
On Windows, VST files have the .dll file extension. Various other system files may also use the .dll file extension, so make sure that you only put VST .dll files into your plugin folder, otherwise Live might crash while trying to load the non-vst files.
Using a custom folder for plug-ins
If you prefer to use a custom (non-system) folder to store your plug-ins, you can set this in your preferences:
Open Live's Preferences to the File/Folder tab.
Under "Plug-In Sources" select a custom VST folder.
Then switch "Use VST Plug-In Custom Folder" On.
Note: If you're using one of the default system folders there's no need to add this as a custom folder.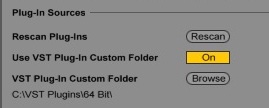 You can find more information about third-party plug-ins in this video tutorial:
What to do if a plug-in doesn't appear in Live
See our dedicated article: VST/AU plug-in doesn't appear in Live.
What to do if a plug-in doesn't function correctly in Live
Check the manufacturer's website to verify that there's a compatible version for your Operating System.
Check the manufacturer's website and make sure you have installed the latest version of the plug-in. If necessary re-install the plug-in completely.
Certain plug-ins may require Live to run with admin rights. For example plug-ins which offer the possibility to drag MIDI clips from the plug-in into Live, like Toontrack's EZDrummer. Here's how to run an application with admin rights on Windows 7, Windows 8 and Windows 10.
What to do if a plug-in crashes Live
If Live crashes at launch after installing a plug-in, you can press and hold the [alt] key then launch Live. This will skip the plug-in scanning process and temporarily disable VST support.
Reinstall the plug-in. If the crashes continue, contact support with any available crash reports.
Selecting a whole drive, a Windows system folder or the whole "Program Files" folder as plug-in folder location can cause Live to crash at launch.
Make sure that your plug-ins folder only contains VST DLLs and no system DLL files
Further Reading