Exporting and handling Audio and MIDI Clips
Live Versions: 9 - 10
Operating System: All
Exporting and creating Live Clips allows you to store your sounds, effects and automation settings into a single file, which you can preview in the browser and load anytime in any of your Live Sets.
Saving Live Clips
If the Live Clip is sending notes to a specific Ableton Device or Third Party plug-in, the device, effects and automation settings will also be saved and recalled when loading it into a new track.
If the Live Clip contains audio, all the Warp, Gain and Pitch settings will also be stored, together with any effect device used and automation as well.
Ideally, you'll want to save your Live Clip in the respective "Clips" folder inside your User Library. If you prefer, you can store your Live Clips in any other folder added to Places. To save a Clip, just drag it onto the desired folder in Live's User Library or Place.
Previewing Live Clips
While browsing through Clips in the Live browser, you can preview each of them: after selecting a Live Clip, you can either click on the "Click to Preview" field, or just hit the right arrow key on your computer keyboard.
After selecting a Clip, you can preview it without loading it into your Live Set.
Note that previewing Live Clips requires more time with respect to audio samples, since all the processing chain needs to be loaded in background: how long this will take is dependent on the complexity of the chain to be previewed.
Loading Live Clips
Loading Clips from Live's browser is quite simple: just click on a Clip twice or select a Clip and press Enter on your computer keyboard.
This action will create a new track (MIDI or Audio, depending on the Clip type) and will load the selected Clip into the first slot of this new track.
This way, all the referenced devices and effects will be loaded as well.
By dragging a Live Clip onto an existing Channel where devices or effects are already available, only the content of the Clip (MIDI notes for a MIDI clip, the sample and its settings for an Audio Clip) will be loaded: the track will preserve the currently loaded devices and effects.
To make sure that all the referenced files are stored together with your Live Clips, please read how to manage the User library.
For more in depth information on how to handle and manage Live Clips, we recommend reading the dedicated Live manual section.
Exporting MIDI Clips as MIDI files
If you are only interested in saving the MIDI content of a Clip as a MIDI file, instead of dragging the Clip onto the browser just right click on the MIDI Clip and choose "Export MIDI Clip..."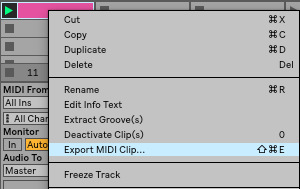 Right click on a MIDI Clip to access the "Export MIDI Clip..." option from the context menu.