Registering Live Lite
Live Versions: 9
Operating System: All
Download Live 9 Lite
As instructed on the product card you received with your hardware product, please visit the Ableton Live Lite page in order to download the latest version.
Install Live 9 Lite
Once the download has completed, please install the program following our Installation Guide for Windows or OS X.
Register and Authorize Live 9 Lite
The first time you launch Live 9 Lite, an authorization dialog will pop up.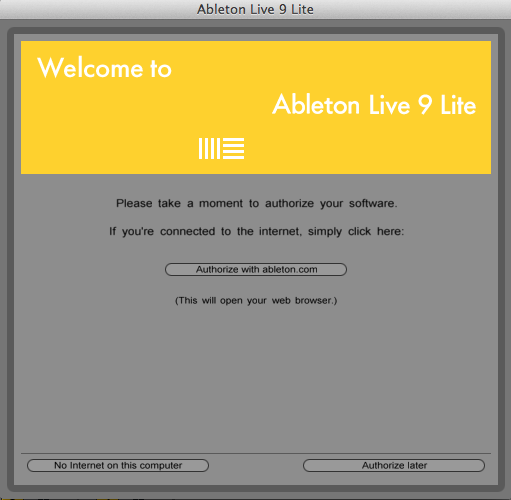 Click on "Authorize with ableton.com." If you are connected to the internet, your web browser will open and direct you to your User Account page at ableton.com
If you already have a User Account, enter your login data in the corresponding field.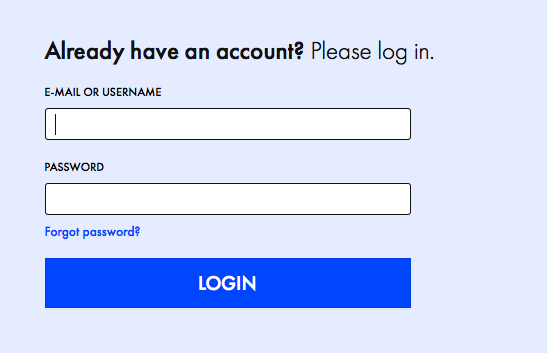 If you do not have a User Account yet, create one now by filling in the registration form using your e-mail address and, if you wish, your first and last name.
All the Ableton products you purchase will then be associated with the chosen e-mail address.  We recommend ticking the option "I'd like to receive the Ableton Newsletter and occasional special offers via e-mail" in order to stay up-to-date with our activities.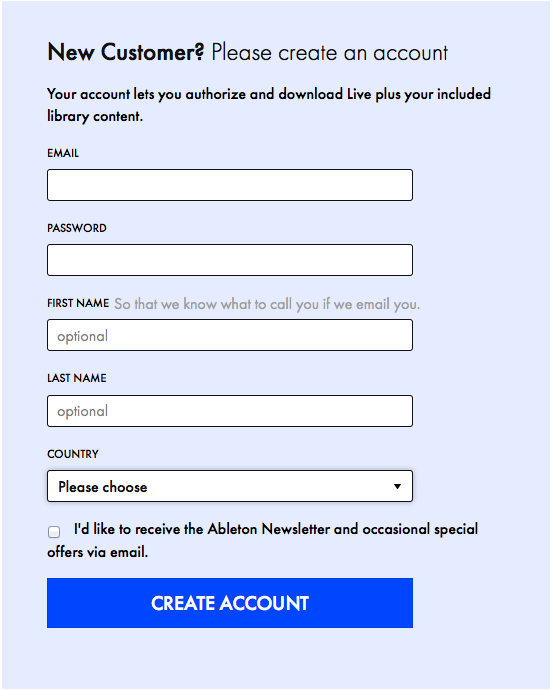 Once you have created your new account by pressing the "Create Account" button, you will be prompted to register your new Ableton product by entering your Live 9 Lite serial number.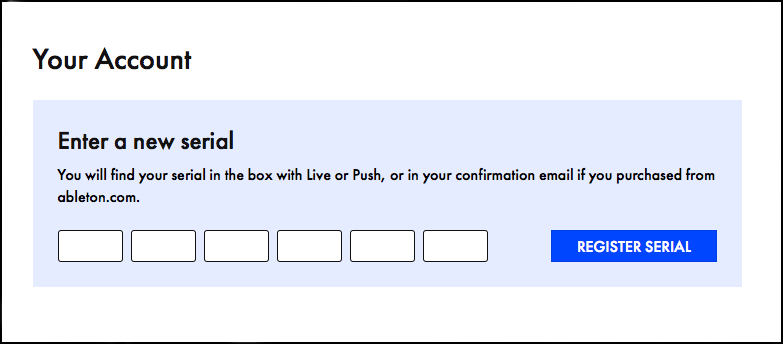 The Live 9 Lite serial number constists of six blocks of four digits each and is delivered to you together with the hardware product Live is bundled with.
Once you have added the serial number, please go back to Live Lite and click on "Authorize with Ableton.com" again to trigger the authorization procedure.
If you did not receive a serial number with your hardware, you can request a replacement. 
If you have more than one Live license, you will be asked which license should be authorized. Live will then complete the authorization process.

At this point, you will be asked to point your web browser to the application you intend to authorize. If it is not listed in this dialog, click "Choose..." to navigate to the directory where Live 9 Lite has been installed. This is normally the "Applications" folder.
Note: In some cases, Live may not authorize automatically. If this happens, try accessing the authorization page with another web browser. Our best experiences were with the free Google Chrome browser.
If you're still unable to authorize online, follow the instructions to download an authorization file to your computer, which you can then use to authorize Live.
If the hardware product you have purchased comes with a previous version of Live Lite, by registering that Serial Number your license will automatically be converted to a Live 9 Lite License.