"Media Files Are Missing"
Live Versions: 6-9
Operating System: All
Live is unable to locate media files in the original file path saved with the Live Set. This can happen for a variety of reasons:
The full Project has been moved to a new computer, and Live is unable to locate the exact file location.
The original Media files have been moved or deleted from the specific folder, and Live can no longer locate them. 
The media files are located on an external hard-drive, which is currently not connected, or has changed name/letter assignment. 
Transferring a Project:
When moving a Project from one computer to another, please use the "Collect All and Save" function from the File menu to consolidate media files into the current Project Folder. In versions prior to Live 6, this function was called "Save Set Self-Contained".
Transfer the entire Live Project Folder to the other computer. The Live Set will now reference the files stored in the Project folder.
Please see "Recommendations for transferring Live Projects" for a detailed breakdown.
Original Media Files are Missing:
If your samples or other media files have been moved then you can force Live to search your computer. 
First click the orange Status Bar to bring up the File Manager View.

Media files are missing Please click here to learn more.
Here you can then set Live to automatically search for the missing files.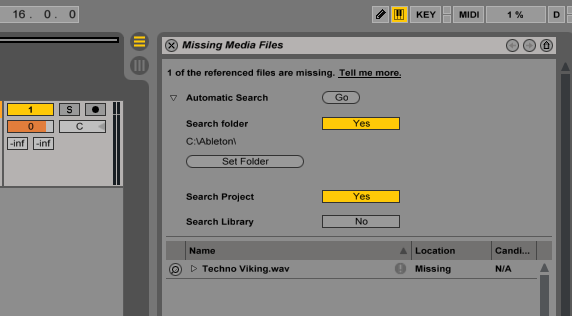 Automatic Search
In the event that Live cannot locate the exact files, and you are sure that they are saved to your computer, then please see this guide, Live's File Manager not automatically replacing candidates. 
For further info, please see the section of the Manual on Managing Files and Sets.