Managing content in Places
Live Versions: 9-10
Operating System: All
The Places section of Live's browser allows you to add folders of clips, samples and files for quick access.
Adding a folder to Places
Click on "Add Folder..." to point Live to the desired directory. Alternatively you can also drag the desired folder from Finder(Mac)/Explorer(Win) and drop it below the existing Places.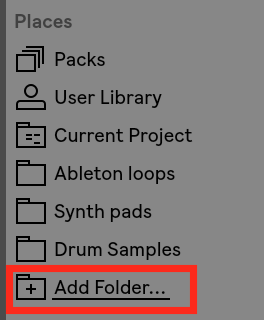 Live will then start scanning the folder and any subfolders contained within and progressively list all the available files. The time necessary to complete the scanning depends on the amount of files and folders contained in the added directory. A spinning wheel by the "Places" label indicates that the scanning procedure is still in progress. In the meantime it is still possible to keep working with Live.
Important - Only add discrete content folders to Places rather than entire hard drives. Adding entire hard drives can cause indexing to be slow, or Places may need to continually re-index the content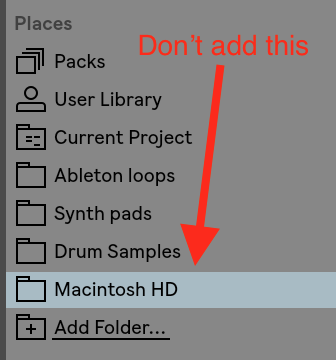 Removing folders from Places
In order to remove a folder right click/CMD Click a folder and select "Remove from Sidebar"
Locating missing folders in Places
In case you've moved a folder on your hard drive it will display as greyed out in Places. To point Places to the new location, right click on the folder and select "Locate Folder" and choose the correct folder location. Once the folder is added, it will re-index and display correctly again.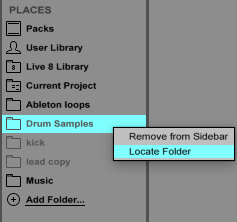 No content shown in Places
If Places shows no content, this might be happening for a number of reasons:
If you've just added a folder to Places and it contains a large amount of files, it may take a while to index the files. Wait for a while and check again.
Make sure no other Live instance is running before launching Live, as more than one instance of Live open will disable the entire browser. Close all open instances of Live, then re-open just one instance of Live.
Make sure the the folders you add contain files that Live can use. Only content which can be loaded in Live will be displayed in the browser: this includes audio files, MIDI files, Max for Live Devices, Live Presets (.adg), Live Sets (.als).
Make sure the audio files contained in these folders have a valid file extension: while these files will work fine if imported by drag and drop directly in Live, the browser will not show any samples for which an extension does not exist. File extensions are hidden by default on most operating systems, so it might be not immediately possible to find out if your files contain one. Here's how to display file extensions on Windows and on Mac.
If you're storing your files in a cloud-synced folder, make sure that the files are available locally (on your computer) at all times. Some services may offer the option to only store references to those files on your computer, while the actual file itself resides in the cloud. In those instances Live will not be able to locate the file, as it does not physically reside on your computer.
Scanning of folders is slow or content keeps re-indexing
If you have Norton Antivirus installed, it can interfere with the content indexing. Either temporarily disable Norton Antivirus while adding content to places, or uninstall the program entirely.
Only add discrete content folders to Places rather than entire hard drives. Adding entire hard drives or very large folders can cause indexing to be slow, or Places may need to continually re-index the content