Adding content to Places
Live Versions: 9
Operating System: All
The Places section of Live's browser allows you to add folders of clips, samples and files for quick access.
Click on "Add Folder..." to point Live to the desired directory. Alternatively you can also drag the desired folder from Finder(Mac)/Explorer(Win) and drop it below the existing Places.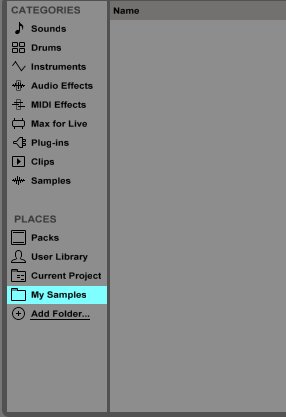 Live will then start scanning the folder and any subfolders contained within and progressively list all the available files.
The time necessary to complete the scanning depends on the amount of files and folders contained in the added directory. A spinning wheel by the "Places" label will indicate that the scanning procedure is still in progress.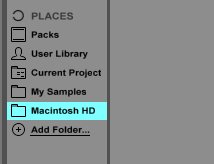 In the meantime it is still possible to keep working with Live. 
Troubleshooting
Make sure to add discrete content folders only rather than entire hard drives. Similarly, make sure that the folders you add contain files that can be read by Live (audio samples, presets, clips etc) otherwise the folder will show up as empty in Live's browser. Adding large amounts of non-readable content may cause issues while indexing the folder(s).