Installing Max for Live with Live 9
Max for Live is a visual programming environment that allows users to build instruments and effects for use within Ableton Live. It comes bundled with Live 9 Suite and is available as an optional upgrade for Live 9 Standard.
If using Live 10 Suite, Max for Live is included with the application installer, and doesn't need to be installed separately. See our dedicated article: Max for Live in Live 10.
Installation
To use Max for Live with Live 9 it is necessary to install Max 7.  You can find the download for the latest Max 7 update by visiting your Ableton User Account page.

Unzip the downloaded file, launch the Max installer and follow the instructions to install Max on your computer.
Note: For OSX users, please ensure you have ejected the Ableton Live installer .dmg before running the Max 7 installation. This will ensure that the correct settings are installed and will avoid this error.
Setup
Once the Max 7 installation has completed, open Live and go to Preferences → File/Folder in order to point Live to the folder where Max is installed.
Note: If you were previously using Max 6 in Live, you may need to change the setting in Live's preferences → File Folder → Max Application. 
Note: for Live 9 Standard users who purchased Max for Live separately, you will need to re-authorize Live 9 after installing Max, as the Max Application section won't appear in Live's preferences until you do so. Please see our dedicated article about Max for Live not appearing in Preferences.

Running Max standalone
Please note that you cannot authorize the stand-alone version of Max 7 with your Max for Live serial. You will receive an error message if you do so as these are two different products.
Live and Max communicate internally and you will never need to launch the Max application manually when using Max for Live.

If you are interested in running Max/MSP in standalone mode outside of Ableton, you can find cross-grade offers for this on the Cycling74 webpage.
Installing Max for Live content
Visit the Packs section of the website and browse for the available Max for Live content by using the respective Max for Live filter.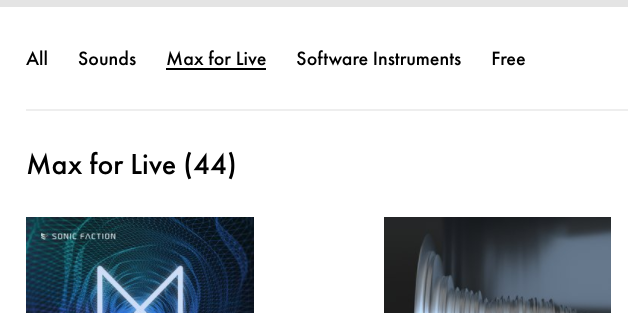 Download the content and then either double click on the download file, or drag and drop the Pack onto Live's program window.
Alternatively, you can go to the File menu item in Live, choose 'Install Pack...' and point the browser to the location where the Live Packs have been downloaded.
Note: Not all Max for Live packs are free - some will need to be purchased first. Once purchased you can download them from your User Account.
Explore the Max for Live content
Access the Live Browser in order to explore the Max for Live instruments and the Max for Live audio and MIDI effects.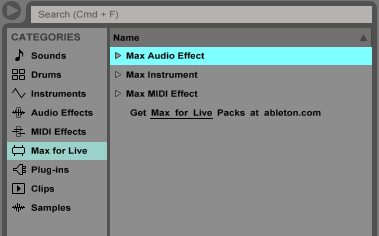 Additional content is available in the Your Packs section of the Ableton website. Once this content has been installed, it can be accessed from Places>Packs in the Live browser.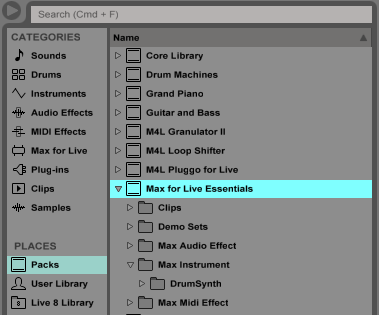 Discover Third-party Max for Live devices
Programming with Max for Live
Access the Max for Live built-in lessons by clicking on the Help menu-->Help View.
Additionally, you can learn more on programming with Max for Live watching this set of video tutorials by Cycling '74.
Episode #1: Max for Live decoding
Episode #2:  Degrade
Episode #3: Simple Delay
Episode #4: SVF
The complete playlist for the Max for Live programming lessons can be found on the Cycling '74 Youtube channel.
More Max for Live tutorials
Forum
Share your knowledge and discuss ideas on the dedicated Max for Live forum.