"Create Fades on Clip Edges" to avoid clicks
Live Versions: 8 - 10
Operating System: All
If the beginning or end of a sample doesn't correspond to a zero crossing, pops or clicks may occur when the audio file is played or looped. The zero crossing is a horizontal line in a waveform where the waveform has an amplitude of 0 dB.
To avoid these clicks, activate Create Fades on Clip Edges in the Record/Warp/Launch section of Live's Preferences. A short (up to 4 ms) fade will be applied to the clip start and end.

These fades can also be activated via the Clip Fade button, in the clip view.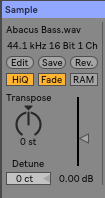 Note: These de-clicking Fades are not to be confused with adjustable Fades.