Uninstalling Live (Windows)
Live Versions: All
Operating System: Windows
Here's how to uninstall the Live application and all associated hidden files from your computer, including Library and Pack content.
Step 1
Open Live's Preferences to the Library tab.
Note the paths to Installation Folder for Packs and Location of User Library.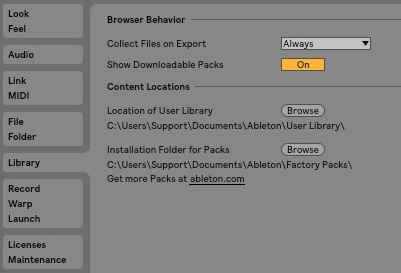 Step 2
Uninstall Live from the Windows Control Panel. You can access this via
Start→ Settings→ System→Apps and Features 
Search for the relevant Live application and click the Uninstall button: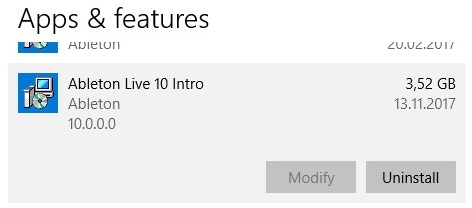 Step 3
Locate these hidden folders and delete them entirely:
\Users\[username]\AppData\Roaming\Ableton\
\Users\[username]\AppData\Local\Ableton\
Here's how to access hidden folders on Windows.
Step 4
Now, open Explorer and browse to the Packs and User Library locations you wrote down previously and delete them.
Note: While Live's Core Library content and Packs can be downloaded and re-installed at any time, your User Library - which contains your own personal presets and files - cannot be restored once deleted, unless you have backed it up to another location. Do not delete the User Library if you have no backup of it.