Live 10: Installing and managing Packs
Live Versions: 10
Operating System: All
In Live 10 it's possible to download and update Packs from within the Live Browser:
For installation of Packs in Live 9, see our dedicated article - Live 9: Installing and managing Packs.
Find out more about the content of a Pack:
Viewing Packs in Live's browser
Click on Packs, under Places. You'll see a list of all currently installed Packs. At the bottom you'll see a section with any updates available, underneath that a list of all other available Packs to download as part of your Live License and a link to browse for more Packs on Ableton.com.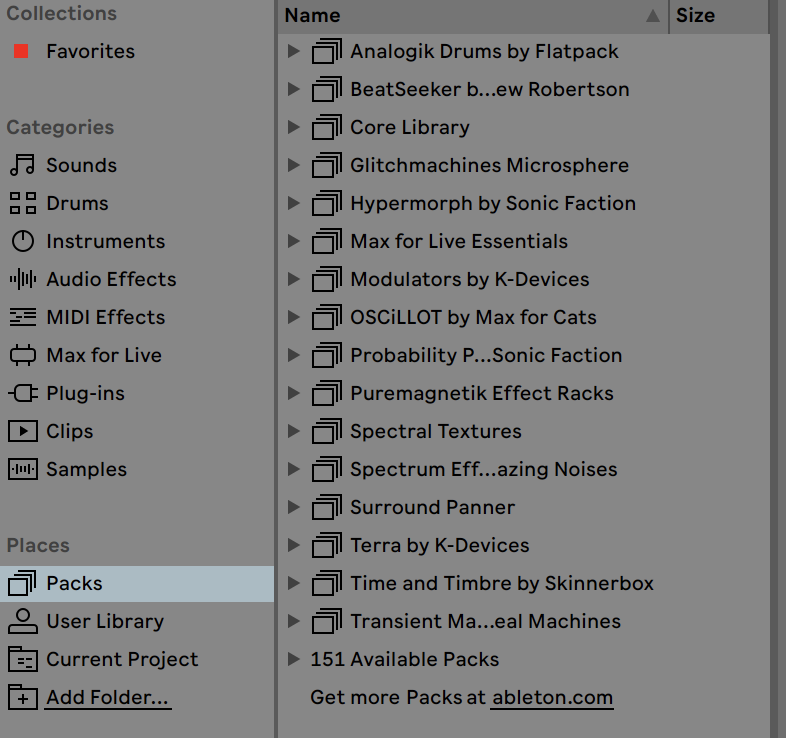 Any greyed out packs means that there's either an update available for that Pack in order for it to work in Live 10, or the Pack may have been moved or deleted from your hard drive.
Updating Packs with Live's Browser
Unfold the dropdown where it says that there are updates available.

Then click on the downward pointing arrow to download an update. The icon will change to a pause symbol showing the download progress and when complete changes to "Install".

Press "Install" and the installation progress dialog will pop up.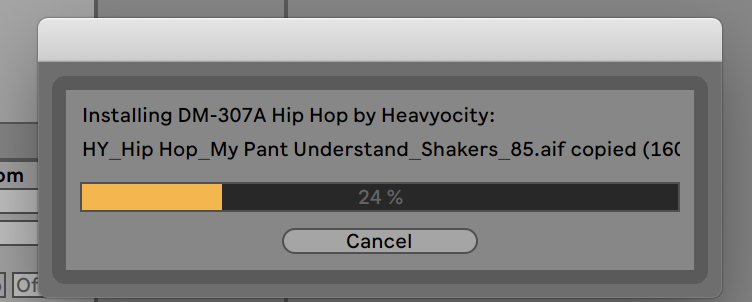 Once installed, the Pack displays in Live's browser and any available lessons open in the Help view.
Browsing and downloading Packs from Live's website
Click on a Pack
Then click on the button marked "Buy Now" to complete the purchase process, or "Download" (if they are free packs).
Purchased packs are added to your User Account and to the "Available Packs" section in Live's browser.
Installing Packs manually
If downloading directly from the Ableton website, Live packs download in the ALP format. Double click on the ALP file or drag and drop it anywhere in Live to install the Pack. Otherwise you can install it from within Live's Browser as detailed above.
Once installed, they will appear in the Places section in Live's Browser under Packs.
Managing Packs
The Live Browser can be used to manage your Live Packs.
To move a Pack, CMD click/Right-click any Pack you wish to move and select 'Move Pack' from the menu.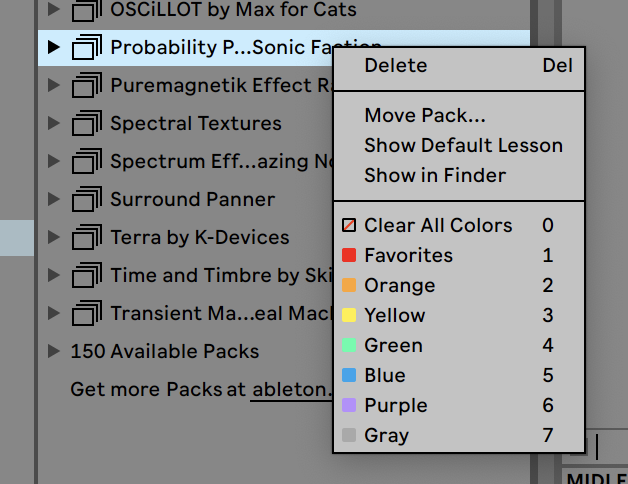 Here, you can also choose to delete the Pack, view the installed Pack on your hard disk, or view the original Help lesson contained within the Pack.
Locating missing Packs
Any Packs which are greyed out in the Pack list are either missing, or an update is required for them to work in Live 10. If no update is available for that Pack, then right click on it and select "Locate Pack" in order to browse and locate the correct location of the Pack on your hard drive.

In case the Pack can't be found on your computer, check on the Packs section on the Ableton website to download a fresh version of the Pack.
Changing the installation folder for Packs
The installation folder for Packs can be changed in Live's Preferences ---> Library. Packs can be installed on an external hard drive if required.
Click "Browse" to search for the desired installation folder: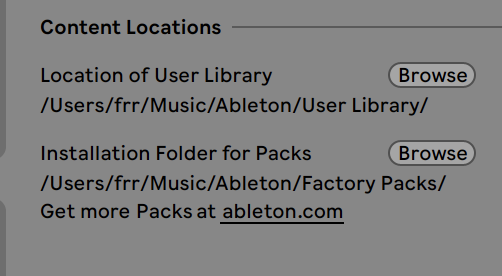 After choosing the desired folder and clicking "Open", a dialog will pop up asking you if you wish to move existing Packs to the new location as well. If you click "No" then only subsequent Packs will be installed to the new folder, and all your existing Packs will remain at the old location. "Yes" moves everything to the new location (recommended):

Using Third-Party Packs in Live
Any third-party packs which are not downloaded from the Ableton website are managed differently. Read our article on using Third Party Packs in Live.
Location of Packs folder
Live stores the information about the directory of the Packs folder in the Library.cfg file. You can find this file here:
Windows

C:\Users\[Username]\AppData\Roaming\Ableton\Live x.x.x\Preferences\Library.cfg

Mac
Macintosh HD/Users/[Username]/Library/Preferences/Ableton/Live x.x.x/Library.cfg
These folders are hidden by default.
Further Reading
Check the Live Pack FAQ