Joining the Live 10 Beta - FAQ
Am I eligible to participate in the Live 10 Beta?
You can participate if you own a Live 10 Suite, Standard or Intro license.
How do I sign up for the Live 10 Beta?
You can sign up for the Beta via Centercode.

Where do I download the Beta installer file?
The Beta installer can be downloaded from Centercode - click on the Downloads tab. It's not possible to download Beta versions from your Ableton.com user account.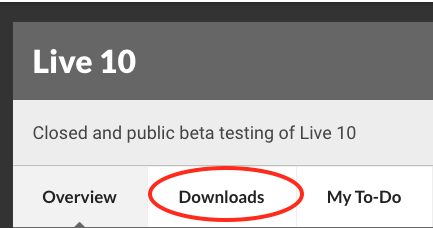 What are the minimum system requirements for the Live 10 Beta?
The Live 10 Beta system requirements are equivalent to the system requirements of the release version of Live 10.
Is the Live 10 Beta stable?
Although Beta versions contain bugfixes and other improvements, they have not been tested as thoroughly as official releases. If you do critical studio or performance work, we suggest using the current release version of Live 10.
Where do I report Live 10 Beta bugs?
All questions about or problems with the Live 10 Beta should be reported in Centercode's Bug Reporting channel. Please do not contact Ableton Support or post Beta issues in the Ableton forum.
Where do I add feature suggestions for Live 10?
If you have suggestions for Live 10, visit Centercode's Suggestions channel.
Where can I read the Live 10 manual?
The manual is included in the software (Help > Read the Live Manual).
Where can I read the Beta Release Notes?
You can find the latest updates under "Release Notes" on the left-hand panel in Centercode.
What do I have to keep in mind when using the Live 10 Beta?
There are no specific limitations, but usage data collection and automatic updates are always enabled in the beta version. Depending on your license, the Beta may come with feature limitations.
Will I be able to use Live Sets created with Live 10 Beta in earlier versions?
Live Sets created with the Live 10 Beta cannot be opened in any earlier Live version.
Can I have Live 10 and Live 10 Beta installed on the same machine?
Yes, the Live 10 Beta installation will not affect the regular Live 10 installation.
Why can't I log in to Centercode?
Centercode is a separate site from Ableton.com. If you don't already have a Centercode account, you will need to create one in order to access the Beta.
I can't remember my password for Centercode, what do I do now?
Please use the Lost My Password retrieval function on the log in page.
How do I opt out of the Live 10 Beta?
In Centercode, click the drop-down beside your name on the top right, then go to Account Settings > Opt-Out > Remove your User Account.