Live 10 Beta FAQ
Update: The Live 10 Beta program is currently full
We have filled the maximum amount of allocated slots. All pending and new applications for the Beta program are paused for the time being. However, you are still welcome to apply and if any spaces open up you'll be notified by email.
Am I eligible to participate in the Live 10 Beta?
You can participate if you own a Live 9 Suite or Standard license. Live Intro and Lite licenses are not eligible for the Live 10 Beta.
How do I apply for the Live 10 Beta?
Log in to your User Account, go to Account and click the link to "Test development versions of Live" in the green box on the right-hand side of the screen. Follow the instructions to join the Public Beta Program and sign up using the link provided.
Note: The "Test development versions of Live" link will only display if you have a Live 9 Suite or Standard License.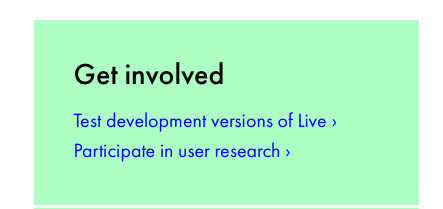 I've signed up but still haven't been accepted, how long do I have to wait?
Signing up for the beta does not guarantee access to the beta. We will enroll groups of applicants daily, which means that you may have to wait until your group is enrolled. How long you have to wait is not specified; it depends upon the number of applications we receive. If we reach the limit of applicants for the beta, or if you are not eligible, then access may not be granted.
Note: As we have currently filled all available slots, all pending and new applications are paused for the time being. If any slots open up, you'll be notified by email
What happens once I have been accepted?
Once you have been fully enrolled in the beta program, you will receive an email confirming this. This email will contain a serial number for the Live 10 beta. You must first register this serial to your Ableton user account. After registering this serial number, you can log into Centercode, download the beta version, and install and authorize it.
Note: this serial number will be added to your current Live 9 license. Upon the official release of Live 10, the Live 10 beta license will be disabled and removed from your account. However, your Live 9 license will remain intact and usable.
What are the minimum system requirements for the Live 10 Beta?
OS X 10.11.6 or later (Mac)
Windows 7, Windows 8 or Windows10 (PC).
64-bit only
Intel® Core™2 Duo processor (Mac)
64-bit Intel® or AMD multi-core processor (PC).
Intel® Core™ i5 processor or faster recommended.
4 GB RAM (8 GB or more recommended)
Where can I read the manual and see other FAQs about Live 10?
The manual is included in the software (Help > Read the Live Manual). We've answered some Live 10 specific questions in this separate article.
Where can I read the beta release notes?
You can find the latest updates under "Release notes" on the left-hand panel in Centercode
What do I have to keep in mind when using the Live 10 Beta?
There are no specific limitations, but usage data collection and automatic updates are always enabled in the beta version. Depending on your license, the Beta may come with feature limitations.
Why am I getting the error message "You do not own a license to which this serial number can be applied" when trying to register a Live 10 Beta serial?
Only Live 9 Suite or Standard license holders are eligible to use the Live 10 Beta. If you have a Live Lite or Intro License, you will not be able to use the Live 10 Beta.
Is the Live 10 Beta stable?
Although beta versions contain bugfixes and other improvements, they have not been tested as thoroughly as official releases. So if you do critical studio or performance work, you might want to stay with a release version of Live 9.
Will I be able to use Live Sets created with Live 10 Beta in earlier versions?
Live Sets created with the Live 10 Beta cannot be opened in any earlier Live version.
Can I have Live 9 and Live 10 Beta installed on the same machine?
Yes, the Live 10 Beta installation will not affect the regular Live 9 installation. 
Where do I report bugs in the Live 10 Beta?
All questions about or problems with the Live 10 beta should be reported in Centercode's Bug Reporting forum. Avoid contacting regular Support channels regarding beta bugs and problems or posting them in the official Ableton forums. 
Where do I add feature suggestions for Live 10?
If you have suggestions for Live 10, visit Centercode's Suggestions Forum.
Why can't I log in to the beta system?
The beta system (Centercode) and your Ableton user account are separate. You can't just use your regular user data. Instead, you'd need to create a new account in the beta system.
I've lost my log-in for the Live 10 Beta bug-tracking system. Who can I contact?
Please use the Lost My Password retrieval function on the log-in page.
Further Reading