Saving Projects
Live Versions: 9 - 10
Operating System: All
Saving your Live Sets correctly will help you avoid the danger of accumulating a disorganized amount of files, samples, data, projects and Live Sets that can very quickly lead to chaos and decreased computer performance. Here are a few aspects to consider in regard to file management in Live.
Saving project files
Live offers two main options to save a Live Set:
"Save Live Set" overwrites the currently open Live Set and keeps the same name.
"Save Live Set As..." allows you not only to choose a new name, but also a new location for this Set.
It is important to understand the difference between a Live Set and a Live Project. A Live Project is the folder which contains the Live Set(s), and all related files. It is the container for a particular piece of work, in most cases a song. Every piece of data you need for this particular song can be saved within the Project folder. The Live Set itself is the file you click on to open your song - it ends with the file extension .als.
Each Live Set you create should be saved in its own individual Live Project folder. You shouldn't save multiple songs or Live Sets (.als files) in the same Project folder. Saving multiple different Live Sets inside the same Live Project folder will cause critical file management issues, and can slow down Live significantly.
Live will create a new Live Project folder when you save a Live Set for the first time. Make sure that this Project folder is not saved inside an existing Live Project folder.
Media files used in a Live Set, such as audio samples, are often spread all across the computer. To make sure that all samples and data used within the Live Set are saved within the Live Project folder, we recommend using the "Collect All and Save" function when saving your Live Sets. In order to do so, click "Collect All and Save" from the File menu: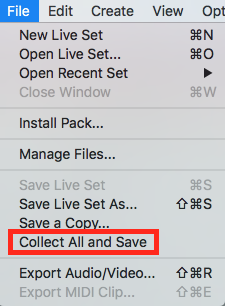 On the subsequent dialog, specify which media files should be copied into the project folder and click "Ok".
Conclusion: It is always recommended to save new projects under a new name and in a folder location outside of any other Project folder.
Note: The User Library is a Live Project itself. Saving your Live Sets into the User Library is therefore not recommended as it will only create an .als file, but not the entire Project folder and lead to problems when e.g. trying to find missing samples.
Adding the sample library to Samples in User Library
It can be tempting to add the entire sample library to "Places" in Live's Browser. This is not recommended however as it will slow down the computer due to necessary scanning processes. A better way is to add the sample library to the Samples folder in User Library. By moving around samples inside the User Library, file references will be kept: you can add folders and organize your samples any way you like.
Managing all the presets and making sure that all the referenced samples are stored inside the User Library is quite easy. Click File→Manage Files→Manage User Library to see an overview of all the presets, files, clips and sets stored in the User Library.